Anti-rail group's effort denied by courts, clerk
An anti-rail group failed yesterday to get its proposal on the November ballot to block the city's proposed $4 billion rail transit system, ending a four-month-long fight that created widespread community debate and spurred aggressive attack campaigns.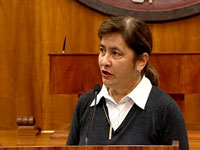 Honolulu city clerk says that the "Stop Rail Now" group is 10,000 signatures short of putting the rail ban on the voting ballot.
Stop Rail Now lost in all of its last-minute, desperate attempts to create a ballot question asking voters to prohibit the city from building a rail transit system.
Circuit Judge Karl Sakamoto upheld yesterday morning his earlier decision that the group needed 44,525 signatures from registered voters to be successful in its petition drive. As its last hope, the group, which wanted the threshold lowered, went to the Hawaii Supreme Court, which issued a ruling yesterday that it would not intervene in this case.
In a final but expected blow to the group, City Clerk Denise De Costa ruled yesterday afternoon that the group collected only 35,056 signatures from verified voters, nearly 10,000 below the requirement.
"I honor their hard work," De Costa said. "We were never against having the question on the ballot."
De Costa said it cost about $45,000 to $50,000 for her office to certify the signatures over the last two weeks. About 20 city employees and contract hires worked for 2,800 hours to double-check each signature against the city's voter database.
A large chunk - 11,309 signatures - was deemed invalid because voters were not registered or properly registered.
However, Oahu residents will still be able to vote on another question created by the City Council, which will ask whether the city should build a "steel wheel on steel rail" system for the 20-mile system from Kapolei to Ala Moana.
Stop Rail Now's Petition results
The City Clerk's Office spent $45,000 to $50,000 to certify signatures submitted by Stop Rail Now attempting place a question on the November general election ballot. Here are the office's results:
» Number of signatures submitted
49,472
» Number of qualified signatures
35,065
Disqualifications:
» Not registered or improperly registered
11,309
» Illegible
1,036
» Only P.O. Box address provided
676
» Miscellaneous (no signature, too young to vote)
693
» Duplicates
629
» Withdrawals
64
Source: City Clerk's Office
Organizers of Stop Rail Now have remained firm that they preferred their question on the ballot as opposed to the City Council's, but said yesterday they are pleased that voters have an opportunity to vote.
"I still consider our efforts successful," said Cliff Slater, an organizer of Stop Rail Now, who is seen as the longtime leader of Honolulu's anti-rail efforts. "We still get to vote on rail. If we hadn't done what we did, there wouldn't be an opportunity to vote on rail."
In April, when the group first announced its petition efforts, organizers said the goal was to collect 70,000 signatures since they knew a bulk would be deemed invalid. The final tally submitted to the city clerk was 49,472, De Costa said.
Mayor Mufi Hannemann and several City Council members said the outcome is crucial and will determine the fate of the system. Rail supporters said they are confident a majority of voters will approve the system, after citing favorable independent polls conducted by the two Honolulu daily papers.
On the other hand, city leaders also said if voters reject the system, while there is nothing legally to stop them from continuing the project, it would essentially kill the system because there would be a fallout of local political support and federal funding.
"If we hiccup one more time, that's it," Hannemann said in a recent interview. "The federal government will not promise funding for Honolulu, and we will have to deal with traffic gridlock."
Now that it will be the City Council's question on the November ballot, the pro- and anti-rail forces will step up an "educational" campaign through another media blitz in the next two months.
Since it is a ballot issue, all groups need to disclose their finances to the state Campaign Spending Commission. Previously, many of the groups were able to hide their contributions and advertising expenses, including the Hawaii Carpenters Union and Stop Rail Now.