Lingle defends Palin's Alaska experience
Lingle's intro to Palin a highlight for Hawaii
STORY SUMMARY »
ST. PAUL, Minn. » Gov. Linda Lingle cited her own political experience as a small-town mayor and governor of a small state yesterday to bolster the Republican nomination of Alaska Gov. Sarah Palin as vice president.
In a prime-time address right before former New York Mayor Rudy Giuliani, Lingle, former mayor of Maui, defended Palin's experience as mayor of Wasilla, Alaska, population 9,000.
"Being a mayor, whether in Hawaii or Alaska or anywhere else, is outstanding preparation for higher office. And the people of Alaska and Hawaii will tell you Sarah and I are doing just fine."
---
FULL STORY »
ST. PAUL, Minn. » Hawaii Gov. Linda Lingle had a place onstage and in prime time as the Republican Party made history last night by nominating a woman as its candidate for the second-highest office in the land.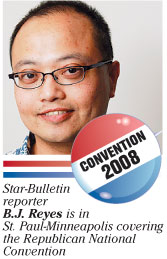 Alaska Gov. Sarah Palin, a little-known first-term governor until a week ago, accepted the nomination, becoming just the second woman and first Republican woman to be part of a presidential ticket. Geraldine Ferraro was Democrat Walter Mondale's running mate in his failed bid against Ronald Reagan in 1984.
The only business left for a convention that started on a subdued note with the pending arrival of Hurricane Gustav in the South is for the "maverick," U.S. Sen. John McCain, to give his acceptance speech before a crowd of about 45,000 delegates at the Xcel Energy Center.
Delegates cheered wildly as McCain made an appearance toward the end of Palin's acceptance speech, asking the delirious crowd, "Don't you think we made the right choice?"
The question was greeted with chants of "U.S.A.! U.S.A.!" from the throng that had been waiting to explode since hearing that the worst of Gustav had passed with no disastrous consequences.
Hawaii got its turn in the spotlight when Lingle introduced Palin. She was followed by former New York Mayor Rudy Giuliani, a one-time rival of McCain for the nomination.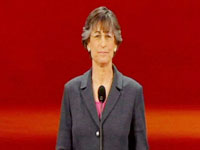 Hawaii Governor Linda Lingle introduced John McCain's running mate, Sarah Palin at the Republican National Convention.
"It's a testament to Gov. Lingle that she commands the respect of the other Republican governors and party leaders that she'd be the best person to introduce Gov. Palin," said Hawaii delegate and state Rep. Barbara Marumoto.
As the roll call of states' delegates was delivered, Lt. Gov. James "Duke" Aiona announced: "Hawaii, the home state of the world's greatest athlete, Olympian decathlon champion Bryan Clay, and 22 other Olympians; Hawaii, the home of the Waipio Little League World Champions, proudly casts its 20 votes for the next president of the United States, Sen. John McCain, and the next vice president of the United States, Gov. Sarah Palin."
Lingle, repeating a theme she has used all week, spoke of her relationship with Palin and the similarities they have faced in their political careers - starting out as journalists, becoming mayors of small towns and ascending to the top leadership position in their states.
She also jumped on the lack of experience of Democratic rivals, noting to the delight of the crowd that neither had any experience as a mayor or governor.
"I find it especially amusing that the other party says Gov. Palin lacks experience," she said, "when their own candidates for president and vice president have no executive experience - zero."
The comment resonated with delegates, who began chanting, "Zero! Zero!"
Lingle painted Palin as a working "hockey mom" and tried to diffuse some of the controversy raised earlier this week when it was learned that Palin's unwed 17-year-old daughter was five months pregnant.
"After 20 years of marriage, Sarah and (husband) Todd have five beautiful children and a grandchild on the way," Lingle said to a large ovation. "They face the same issues that moms and dads do every single day in our country.
"Challenging things happen to families, and, just like yours, families pull together and get through it."