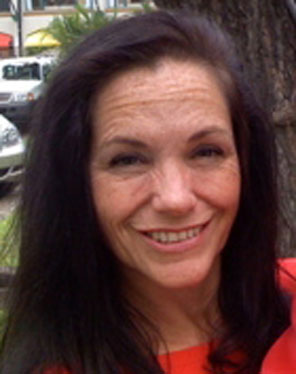 Kimberly Jacobs:
She has a distinctive limp, with her right foot slightly bent in

Woman goes missing after upsetting day
A Waikiki woman who was upset after a bad day last week has been missing since then from her Kalakaua Avenue apartment.
Her husband of three years, financial planner Stan Jacobs, came home shortly after 6 p.m. Thursday and found his wife, Kimberly, upset.
"She was tired and needed some rest, and a little bit down," the husband said. "I came back at 8, and she wasn't there."
His wife had to deal with stress from back pains and a harassing tenant they have in one of their California properties, he said.
Jacobs assumed his wife had gone to a friend's home nearby, as she usually did, and didn't begin to fear for her safety until after an off-island friend filed a missing-person's report with police.
"I wasn't concerned the next day because we have many friends nearby," Jacobs said.
He said his wife had left her cell phone, purse and other belongings at their home. He said he doesn't have reason to believe she left the state.
Jacobs also said he doesn't believe his wife was attacked. Their home was not disturbed when he returned.
"Kimberly is very powerful, forceful, decisive," Jacobs said. "I'm not even thinking that anything happened that somebody took her against her will. That's not realistic."
The Jacobses have three children and a grandchild whom she cared for constantly, Jacobs said.
Police said Kimberly Jacobs has a distinctive limp. Her husband described her right foot as being slightly bent in and should be visible since she usually wears slippers or sandals.
She is Caucasian, has brown hair and brown eyes, is 5 feet 4 inches tall and weighs 130 pounds.
Anyone with information is asked to call CrimeStoppers at 955-8300 or *CRIME on a cell phone.
"Just let us know you're OK," Jacobs said in a message to his wife. "The baby's asking for tutu all the time. She needs tutu. Everybody loves you."