Jellyfish invade isle beaches
Stings: Floating creatures keep guards busy
Lifeguards at Waikiki and Ala Moana Beach Park treated 82 people for box jellyfish stings yesterday on the first day of a monthly invasion on the island's south shores.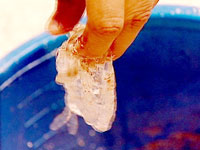 More than 80 people were treated for stings. 08/26/08
More than 1,100 box jellyfish were found on the shoreline there and at Pokai Bay and Nanakuli, according to the city Ocean Safety and Lifeguard Services Division.
The south shore of Kauai saw its largest box jellyfish infestation in years yesterday, according to county officials.
Three dozen jellyfish were found at Poipu Beach Park near the Marriott Waiohai Beach Resort, said county public information officer Mary Daubert. A number were found by the Sheraton Kauai Resort less than a mile away as well.
Poipu Beach lifeguards have treated one man with jellyfish stings, she added, and they spent the day keeping beach-goers apprised of the jellyfish situation.
Warning signs posted yesterday may remain up today at the affected Oahu beaches if the influx of jellyfish continues.
People who are stung are advised to flush the sting area with white vinegar. People allergic to the stings may experience breathing difficulty, muscle cramps and persistent pain and should seek immediate medical attention, according to the Ocean Safety advisory.
The influx of box jellyfish occurs from eight to 10 days after a full moon. For more information on box jellyfish, go to 808jellyfish.com or hawaiibeachsafety.org.