DNA links UH felon to sex assault
DNA evidence has linked an unsolved sexual-assault case last year to a man awaiting sentencing for sexual assault and stealing women's underwear at the University of Hawaii dormitories.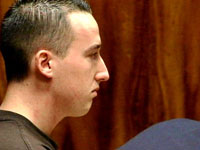 A man who admitted stalking the UH dorms and committing sexual offenses there, is now being charged with rape in Waikiki.
Mark Heath has already pleaded guilty to burglary and sexual-assault charges for breaking into several University of Hawaii-Manoa dormitories and taking underwear, among other things, in April last year.
Yesterday, Heath was indicted with first-degree burglary and second-degree sexual assault.
He is accused of breaking into an Ala Wai Boulevard residence and sexually assaulting a woman living there on April 9 last year.
Prosecutors said a DNA sample was taken from Heath after he was convicted in the UH case. With yesterday's indictment, Heath's bail is set at $1 million.
Heath's bail on the previous case was set at $250,000, which he was trying to get reduced. A hearing on his request for supervised release is scheduled in Circuit Court today.
"I'm sure (the indictment) will be evidence presented to the judge (today)," said Prosecutor Peter Carlisle on his office's hope to keep Heath imprisoned.
Carlisle declined to discuss specifics on Heath's latest case.
On Aug. 19 last year, Heath tried to cut off the panties of a female student at the Hale Mokihana dormitory. He also was accused of stealing women's underwear and an iPod in November last year.
Heath faces imprisonment of 10 years on each of three counts of first-degree burglary, and five years each for third-degree sexual assault and unauthorized entry into a dwelling.
Heath has two children and was married. His wife divorced him in June.
DNA matching for cold cases has not happened often in Hawaii. Last year, convicted murderer Darnell Griffin was accused in the 1999 rape and murder of Evelyn Luka. His DNA was collected because he was convicted in the 1980 murder of Lynn Marie Gherardi.
"There are a number of different cases where we're allowed to do it," Carlisle said.
Carlisle said as the Honolulu Police Department expands its forensic lab, more DNA matches would be possible.
"The more and more data we get, with DNA profiles, you can anticipate this happening with greater regularity," Carlisle said.