Students in isles see SAT scores dip
The three-year slide on the standardized test comes despite efforts to improve scores
STORY SUMMARY »
Hawaii's high school graduating class of 2008 fared worse on the College Board SAT compared with last year's seniors who took the exam.
Students from public, independent and religiously affiliated schools in the state posted an average score of 481 in reading out of a possible 800 points, according to results released yesterday. They scored 502 in math and 470 in writing.
That's down from last year's scores of 484 in reading, 506 in math and 473 in writing, and below the national averages, which remained equal to last year at 502 in reading, 515 in math and 494 in writing.
---
FULL STORY »
Reading, math and writing scores posted by Hawaii's graduating class of 2008 on the College Board SAT dropped from last year as the number of students taking the exam continued to grow, results released yesterday show.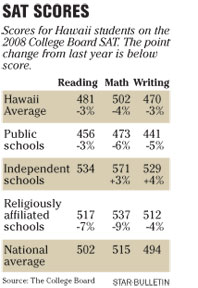 Nationally, average scores, which had been falling since 2005, were unchanged on this year's SAT, the most widely used U.S. college-entrance exam, formerly known as the Scholastic Aptitude Test.
Students from public, independent and religiously affiliated schools in Hawaii had a combined reading score of 481 - three points lower than last year - out of a possible 800.
The math score dipped four points to 502, while the 470 in writing was three points under last year's mark.
Hawaii's average scores for all three subjects ranked below the national averages, which remained equal to last year at 502 in reading, 515 in math, and 494 in writing.
Math and reading scores for isle public school students fell for the third straight year. Their writing score has declined since the subject was added to the exam in 2006.
Hawaii's religiously affiliated schools, which had made gains in math and reading last year, also fared worse across the board in the latest test. Independent schools, meanwhile, improved in math and in writing, with no changes in reading, over the previous year.
To boost scores locally, the state Department of Education began offering free practice SAT tests for all 10th-graders in the 2005-06 school year after securing $175,000 from the Legislature. It expanded the service to 11th-graders during the 2007-08 school year, and will now allow ninth-graders to participate at no cost, said Cara Tanimura, director for the Education Department's systems accountability office.
"The department is very concerned about the drop in the scores," she said. "What we need to do now is really have a dialogue with our high school principals and counselors to try to see where are we falling short and where can we support the students to score a little higher on the test."
The number of Hawaii students taking the test rose to 8,195 from 7,982. There were a record 1.52 million test takers nationally, a bump of almost 30 percent over the past decade.
Students from minority groups made up 40 percent of SAT test takers nationally, up from 33 percent in 1998.
Scores had fallen nationally in 2005 through 2007, partly because the addition of the writing component in 2006 made the test longer and less likely to be taken multiple times, according to the College Board.
Scores also declined because the test is being taken by an increasing number of students from schools and communities unfamiliar with it.
Of the Hawaii students who sent their SAT test scores to universities or colleges, 65.2 percent of them chose the University of Hawaii at Manoa, followed by Hawaii Pacific University (21.9 percent) and UH-Hilo (16.5 percent). Outside the state, the University of Washington in Seattle received the most score reports from isle students, 12.8 percent, followed by Oregon State University and the University of Southern California. Some students applied to more than one school.
Bloomberg News contributed to this report