A second edition of the cookbook and cultural guide "Chimugukuru" is published
»
Cooking with the Okinawan trinity
»
More on the Okinawan Festival in "The Electric Kitchen"
To embrace Okinawan cooking is to embrace its holy trinity: pork, bittermelon and the purple sweet potato. The first and the last, not so hard, but when it comes to goya -- that bumpy, bitter staple veggie of Okinawan cuisine -- well, you love it or you hate it.
Of the 10 women who worked to compile "Chimugukuru," a new guide to Okinawan culture and cuisine, a few just cannot handle their goya. Another couple had never cooked Okinawan food before, some had rarely eaten it, and a few aren't even Okinawan, except by marriage.
No matter. These members of Hui O Laulima, the women's auxiliary of the United Okinawan Association of Hawaii, were on a mission to have their book ready for this weekend's Okinawan Festival in Kapiolani Park.
"There's a core of ladies in this club who are crazy," says Wendy Yoshimoto, a member of the group, although she professes not to be among the crazy ones. "They are committed. Nothing will stop these ladies from doing it."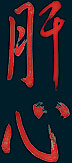 "Chimugukuru" (Mutual Publishing) is a available at a presale price of $23 through Tuesday. Call 839-6089 or e-mail huio
laulima@gmail
.com for an order form. The price after that will be $32.95. Orders may be picked up at the Okinawan Festival, Saturday and Sunday at Kapiolani Park, or mailed for $7 per book in Hawaii; $11 to the mainland.
"Chimugukuru," subtitled "Okinawan Mixed Plate II," is the second edition of a book the group published in 2000. It included not just recipes but also cultural notes on everything from tattoos to lacquerware to awamori, the homegrown liquor of Okinawa.
The book sold 10,000 copies, earning more than $80,000 for the group's cultural activities.
"Chimugukuru" refines some recipes from the original "Mixed Plate," and adds others from local chefs, including a selection from Okinawan restaurants. On the cultural side, it addds a chapter on the Okinawan immigrants' journey to Hawaii. "That was the completion of our book," coordinator Bobbi Kubo says.
As they did with the first book, the women met weekly to test and taste the recipes, so you can be sure what's in the book is user-friendly. Consider the commitment: They met every Saturday for 18 months to get this done.
"The reason I joined this group was to learn about my culture," Yoshimoto says. "And boy, did I get immersed in it."
One recipe that didn't make the cut: Squid Ink Somen, not because it's odd or anything, but because the ink is hard to get outside Okinawa.
The result is a collection of recipes for such traditional dishes as Pig's Feet Soup, Chamapuru (stir-fry) and goya in many forms, but also some contemporary takes on tofu, eggplant, taro and pumpkin.
"I think it's good for us mentally," Kubo says of the group's commitment to the project. "It keeps the plaque from building up in our brains."