Soetoro-Ng talks ohana
Sister weaves together family, dreams
STORY SUMMARY »
DENVER » Hawaii teacher Maya Soetoro-Ng took center stage yesterday at the Democratic National Convention, making the transition to sought-after political speaker.
Sen. Barack Obama's half sister profiled him for the party faithful at the Pepsi Center, saying his strength was derived from their mother, Stanley Ann Dunham.
From her, she said, they learned that "with a little imagination, we could dream the improbable, that through hard work, we could accomplish the extraordinary."
---
FULL STORY »
DENVER » It was Barack Obama family night at the Pepsi Center yesterday, with wife Michelle and brother-in-law Craig Robinson speaking.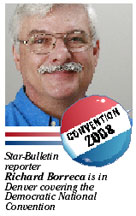 And for a few moments, it was ohana night for the Hawaii delegates to the Democratic National Convention, when Sen. Obama's half sister, Maya Soetoro-Ng of La Pietra-Hawaii School for Girls, spoke in a "pre-prime-time" portion of the convention.
Last night, with her voice booming across the center, Soetoro-Ng confirmed what Hawaii delegates said they already knew.
"You got to see a schoolteacher who a year and a half ago had not given a speech in a political setting," said Andy Winer, Obama state coordinator. "She represented her brother as well as she possibly could."
Soetoro-Ng has grown from a dedicated history teacher to one of the most sought-after speakers in her brother's campaign for the presidency.
In her speech, Soetoro-Ng repeatedly came back to Obama's central theme of wholesale change for the political system, saying that the upbringing provided by her and Barack's mother, Stanley Ann Dunham, led the way.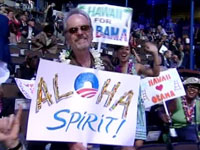 An enthusiastic Hawaii delegation is at the Democratic National Convention taking in all the excitement.
"With a little imagination, we could dream the improbable, that through hard work, we could accomplish the extraordinary, that through the power of education, we could propel ourselves to a future far more promising than our circumstances led us to expect," Soetoro-Ng said.
Said Hawaii delegate Ed Hasegawa, attending his third national convention, "She developed a picture of how and who her brother is. The source of his strength is primarily from her mother. What she showed to me was the value he gave her, the responsibility he has and the ability to listen to people."
Soetoro-Ng ended her speech by saying that "if you elect Barack president, he'll be there for you, just as he's always been there for me.
"I know he'll help you realize your dreams, just as he's helped me realize mine."
That was the key for Honolulu Mayor Mufi Hannemann, also a delegate.
"She did a beautiful job of helping to define the essence of Barack Obama. He is all about family. Family comes first. I loved the line that he will look after us the way he looked after her," Hannemann said.
Soetoro-Ng was able to weave both Hawaii and her educational background into the address by noting that her mission in the classroom has been to "make our country's fascinating story leap from the page for my students."
Noting that many of her students in Hawaii and on the mainland "had never traveled beyond their neighborhoods for fear of feeling like outsiders," Soetoro-Ng said she taught them to dream bigger.
"That is what this nation gave to Barack, and that is what he wants for his daughters and my daughter and for every single child in this country: bountiful opportunity," Soetoro-Ng said.
U.S. Rep. Mazie Hirono, who called Soetoro-Ng a poised and confident speaker, noted that Obama and his sister have a good relationship.
"I thought it was terrific because it showed the pride of a younger sister for an older brother. You can see a part of history being made with her older brother," Hirono said.
Soetoro-Ng was born in Jakarta, Indonesia, and later moved with her family to Honolulu. She is also a lecturer at the University of Hawaii's College of Education, where she teaches multicultural education and the history of education.