Waipio world series team returns
Cheering kids and adults look up to the Little Leaguers as heroes
STORY SUMMARY »
About 200 people jammed into the baggage claim at Honolulu Airport last night to enthusiastically welcome back the Little League champions of the world.
To the beat of Tahitian drums and hula dancers, fans, friends and family members greeted the Waipio Little Leaguers with leis and balloons as the team returned from their Sunday win over Matamoros, Mexico, in Williamsport, Pa.
After disembarking at a closed Gate 13, the travel-weary boys squinted into camera lights and fielded questions from reporters.
First baseman Khade Paris' stepfather, Shane Mitsui, said the welcome home was "unbelievable," adding, "The kids deserve every bit of it. ... They put in their sweat, their hard work. This is all for them. This is a dream come true."
---
FULL STORY »
The Waipio youngsters who captured the hearts of Hawaii along with the Little League World Series title came home to some 200 cheering fans at Honolulu Airport last night.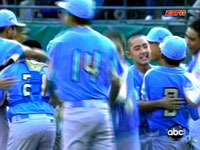 Family friends and supporters welcome home the boys from Waipio.
Many of those adoring fans looked up to the youngsters as heroes, from the pint-size to the adult-size. Andrew Dado, 40, of Kapolei hugged and congratulated each one.
"I felt like I was one of the them," he said as he watched the games over the weekend. "When I played Little League, I didn't have what they did. I would freeze. They did great. They did what I couldn't do."
A crowd of airport workers and travelers gathered outside the closed Gate 13 area where the team disembarked, greeted by former Little League player and Lt. Gov. James Aiona, and cheered as they came out.
The weary boys took questions from reporters and squinted as they faced the lights of the cameras.
Iolana Akau said his arm was slightly sprained and bruised after getting hit by a pitch, but he felt no pain when he made a photo-worthy catch and hit two home runs.
The modest Akau said he did see his photo in the papers but, when asked how he felt seeing it, just shrugged his shoulders and said, "I don't know."
Coach Timo Donahue said the boys' humility was not something that had to be worked on: "That's how they've been the whole time."
He credited their parents and their upbringing.
As for their unbelievable win in the national championship, after being down 5-1 in the sixth inning, he said, "This group of kids had that never-give-up attitude. That's what kept them strong throughout."
When they got to the Diamond Head end of the baggage claim area, at least 150 relatives, friends and fans screamed as the boys, their coaches and families arrived to the beat of "tueri" - Tahitian drums - and hula dancers of the group Teori Nui.
Player Tyler Ling recalled stepping up to the pitcher's mound when his team was down 5-1 in the game against Louisiana, and heard the words of his coach, who told him, "Don't give up, win or lose. Don't hang your head."
He admitted, "At one point I thought they would win, but the other coaches said, 'Don't give up.'"
"It was amazing. I just threw strikes and did what I had to do," Ling said.
Last night, Ling smiled and posed for photos with some of his former Little League teammates and said the best part of the homecoming was "seeing all my friends and family."
Tyler Kushima, 10, who plays on the Waipio team Turn 2, got autographs and gave praise to his heroes.
"They practiced practically every day, and I live right next to the park," he said. "When they practice, I watch them.
"I look up to them," he said.
He acknowledged how humble the boys were after winning the national and world championship games and explained, "If you lost, you wouldn't like somebody bragging."
"They had the talent and the patience," said Radson Jang, 11, who played on the Waipio Silverdogs with some of the winning team members.
The welcome home was "unbelievable," said Khade Paris' stepfather, Shane Mitsui. "The kids deserve every bit of it. They worked hard, some of them three years. The put in their sweat, their hard work. This is all for them. This is a dream come true."
Pikai Winchester's 5-year-old brother, Paliku, whose name was chanted during the games, followed him around wearing the team cap and shirt. Paliku, who is undergoing chemotherapy for lymphoma, was the team's inspiration. Pikai said he said to himself during the games, "We're gonna do this for you."
They took deep breaths to relax. He said the team did not really celebrate right after their wins because "it didn't really sink in."
Christian Donahue, the eldest at 13 and the coach's son, said his best memory was "when I came in to pitch the last two outs of the (championship) game."
It felt "great" and he was "excited," he said.
First baseman and pitcher Khade said his proudest moment was "shutting down Louisiana's offense for three innings" while pitching, but admitted, "My bat wasn't really working."
He said as he got off the plane that he looked forward to going home to celebrate and sleep.
But as Khade headed home, pushing his grandmother Sunday Paris in her wheelchair, he admitted all the fanfare and having all his relatives to greet him was exciting, and said, "I felt good that they came to support me."
Now home, he will celebrate the 13th birthday he missed Wednesday.
"I'm proud of him," Sunday Paris said.