| | |
| --- | --- |
| | Newswatch |
---
600 jellyfish wash up in Waikiki
More than 600 box jellyfish washed ashore on beaches in Waikiki this morning with several hundred more turning up at Ala Moana Beach.
Lifeguards were to post signs at beaches to warn beachgoers. There were no reports of stings as of 7:45 a.m., according to Bryan Cheplic, spokesman of the Ocean Safety and Lifeguard Services Division.
Beachgoers are advised to check with lifeguards first before entering the water. Those allergic to stings from box jellyfish are advised to stay out of the water.
Box jellyfish normally invade Oahu beaches 8 to 10 days after the full moon, which was Aug. 16. The most commonly affected areas include Waikiki, primarily Kuhio Beach, and Ala Moana Beach Park, Hanauma Bay, Pokai Bay, Makaha Beach and Waimea Bay. Hanauma Bay is closed on Tuesdays.
Those stung by jellyfish are advised to flush the affected area with lots of white vinegar and use heat or cold packs for pain.
For more information on box jellyfish, go to 808jellyfish.com or hawaiibeachsafety.org.
2008 graduates' SAT scores drop
Scores posted by Hawaii's graduating class of 2008 on the College Board SAT continued to drop this year as a more students took the exam, results released today show.
Students from public, independent and religiously affiliated schools in the state had a combined average score of 481 in reading out of a possible 800 points. They scored 502 in math and 470 in writing.
That's down from last year's scores of 484 in reading, 506 in math and 473 in writing, and below the national average.
The number of isle students taking the test rose to 8,195 from 7,982 a year ago, mirroring a national jump in participation.
The 1.52 million students who took the SAT is a slight increase from last year but an increase of nearly 30 percent over the past decade.
Nationally, students logged an average of 515 points on the math section, a performance identical to graduating seniors in the previous year. Scores in the critical reading component among last spring's high school seniors also held steady at 502. In writing, a section added in 2006, students averaged 494 -- a three-point drop from its debut year.
The College Board said a record number of students took the SAT this year, and minority students comprised 40 percent of all test-takers, up from 33 percent 10 years ago.
Of the Hawaii students who sent their SAT test scores to universities or colleges, 65.2 percent of them chose the University of Hawaii at Manoa, followed by Hawaii Pacific University (21.9 percent) and UH-Hilo (16.5 percent).
Outside the state, the University of Washington Seattle received the most test scores reports from Hawaii students, 12.8 percent, followed by Oregon State University and the University of Southern California.
Percentages will add up to more than 100 because students send scores to more than one school.
Traffic jams return with school
Rush-hour traffic increased yesterday as University of Hawaii-Manoa students returned to school, though state officials advise motorists to expect increased traffic congestion over the next two weeks.
Over the last three weeks, the state Transportation Department launched a "Beat the School Jam" campaign with radio advertisements and signs warning motorists of these next two weeks, when many private schools start up again.
"We want people to consider carpooling or van-pooling, leaving earlier to using public transit," said Tammy Mori, state transportation spokeswoman. "The next two weeks is going to be the most congested because of the tapered schedule, with private schools going back in session. Sometimes it takes sitting in traffic for people to change their habits."
Arsenic levels back to normal
HILO » New tests show that arsenic levels have returned to normal in seven people living south of Hilo who previously had higher-than-average levels in their bodies, the state Department of Health announced yesterday.
The tests were done because higher-than-average levels of arsenic in soil were found in community gardens in two former plantation housing areas at Keaau, five miles from Hilo.
Low levels or arsenic are found naturally in Hawaii soils. The higher-than-average amounts in the gardens were believed to be due to the use of arsenic compounds by sugar plantations from 1915 to 1950 to control weeds.
People can also get elevated levels of arsenic in their body by eating seafood, seaweed, rice and other foods, the department said. The body normally eliminates the arsenic in urine within a few days, they said.
Initial testing of 33 people, ranging in age from 10 to 88, was done at two "camps" or plantation housing sites in 2005, the department said.
The seven in question with initial high levels were retested in 2007, and those results are being reported now.
There is no need for anyone in the affected areas to change any part of their diet, the department said.
Mites seen as threat to bees
Two varroa mites - pests that feed on honeybee larvae - were found among 2,850 bees from a feral beehive in Hilo over the weekend.
Last Friday, varroa mites were detected in a swarm trap in the Hilo Bay area.
State Department of Agriculture staff conducting additional testing have revised the number of varroa mites found in that swarm trap to 12 mites in the collection of about 20,000 bees.
Agriculture officials urge Hilo residents to report feral beehives and bee swarms to the state's toll-free Pest Hotline at 643-PEST. The Agriculture Department is also asking beekeepers and the public not to transport bees or beekeeping equipment in or out of a 15-mile radius of Hilo Bay.
An Incident Command System has been established on the Big Island to coordinate and manage rapid response efforts. Agriculture personnel from Oahu have been supplementing Hilo staff in setting about 60 swarm traps in the Hilo area, and another 60 traps are in the process of being deployed. Staff is also taking samples from all managed beehives within a 15-mile radius of Hilo Bay. So far, no varroa mites have been found in managed beehives on the Big Island.
Varroa mites were reported by a beekeeper in Manoa in April 2007.
| | |
| --- | --- |
| | Police, Fire, Courts |
---
HONOLULU
Video game leads to argument, arrest
Police arrested a 25-year-old Makiki man early yesterday morning for allegedly assaulting a 23-year-old woman following an argument about video games.
According to police, the woman went over to the man's Makiki apartment to play video games on the computer, which shut down for no apparent reason. The two began to argue, police said. The woman left the apartment, and the man followed her to the elevator where they began arguing again, police said.
The man then stopped her from leaving, grabbed her neck and choked her, police said. Police, acting on an anonymous call to 911, arrested the man on suspicion of abuse and kidnapping.
WAIKIKI
Police issue alert for missing woman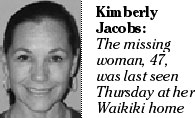 Police are asking for the public's help in finding a 47-year-old woman who was emotionally distraught and walks with a distinct limp.
Police said Kimberly Jacobs was last seen Thursday at her Waikiki home.
Jacobs is Caucasian, has brown hair and brown eyes, is 5 feet 4 inches tall and weighs 130 pounds.
Anyone with information is asked to call CrimeStoppers at 955-8300 or *CRIME on a cell phone.
NEIGHBOR ISLANDS
Pair's quarrel ends with man stabbed
Police arrested a 51-year-old Kailua-Kona woman for allegedly stabbing a man in the throat Sunday during a domestic argument.
Kona patrol officers responded to a 7:30 p.m. report of a domestic dispute at an apartment on Alii Drive in Kailua-Kona and found a 45-year-old man with a knife wound to his throat.
Fire Department personnel took the victim to Kona Community Hospital, where he was initially listed in serious condition. His condition was later upgraded to satisfactory. He was kept at the hospital overnight for observation.
The woman was being held without charges at the Kona police cellblock pending further investigation by the Juvenile Aid Section.