Obama-Biden ticket gives isle Democrats confidence
Delegates are ready to offer their support but also see room for some improvement
DENVER » U.S. Sen. Daniel Inouye, D-Hawaii, predicts a victory for presumptive presidential nominee Sen. Barack Obama. But even in his optimism, he sees some cautions.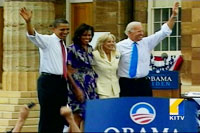 Presidential candidate Barack Obama announced that Joe Biden will be his Vice Presidential running mate.
"This is his race to lose," said Inouye, who had supported Sen. Hillary Clinton but is now backing the Illinois senator.
"If you look at the numbers, the numbers all suggest he is destined to be the next president, but there is something else haunting me," Inouye said.
Inouye said pollsters tell him that a certain number of voters will mislead them when they answer questions, and that that is likely to show up in some of Obama's popularity numbers.
"No matter what we say, racism is still alive in this country," Inouye says, fearing that some of Obama's vote will disappear on election day.
Inouye, however, said he is ready to back Obama all the way. Inouye, a World War II veteran who lost his right arm in combat and was awarded the Medal of Honor, said he would put on his uniform for a President Obama.
"If I were in uniform, with what I know of Barack Obama, his sentiment, his temper, his outlook, I would be pleased and confident and proud to serve under him as commander as chief," Inouye said.
Obama's strongest support in the Hawaii congressional delegation is U.S. Rep. Neil Abercrombie, D-Hawaii, who also has his worries about the 47-year-old first-time senator.
"The only criticism I have of the Obama campaign and the way he is handling the campaign," Abercrombie said, "is sometimes he is a little too conversational. His great strength is that he has a conversation with people and he is respectful of other people.
"When he speaks, he creates a sense of calm that is presidential. But you can also be a little too phlegmatic," Abercrombie said, explaining that Obama at times appears unemotional.
"He needs to actually say more about hope and change as opposed to saying that John McCain is calling me names," Abercrombie advised.
Hawaii's senior congressman is not as concerned as Inouye about the fact that Obama is African-American, because, he said, "People who aren't going to vote for him because of that are just never going to vote for him.
"What the pollsters can't measure are the young people with just cell phones that the pollsters can't reach. They haven't been contacted by a pollster, but Obama reaches them and I think they will show up," Abercrombie said.
Here in Denver, Hawaii's Democratic delegation to the Democratic National Convention is staying at the Marriott South Meadows in Littleton, Colo., which is about 30 miles from Denver.
Delegates yesterday were giving Obama's choice of Delaware Sen. Joe Biden a strong thumbs-up.
Hawaii Democratic Party worker Kate Stanley, a first-time convention delegate, said the Biden selection reflected well on both Biden and Obama.
"I think Biden is terrific," Stanley, a former state representative, said. "I think he will do well in the debate and it will also bring credibility to the argument for Obama, and it shows Obama's good judgment."
That was echoed by another first-time delegate, former Intermediate Court of Appeals Chief Judge Jim Burns.
"Biden is going to make a great No. 2," Burns said. "He has a great deal of experience in foreign policy and he isn't afraid to speak his mind."
U.S. Rep. Mazie Hirono, D-Hawaii, also said the ticket is better with Biden on it: "We need a change in priorities for our country, and an Obama-Biden ticket will provide us that leadership to tackle these big challenges we face."