Never count them out
Waipio's sixth-inning comeback win thrills isle fans
»
The World Awaits
STORY SUMMARY »
The Waipio Little League team, with fans chanting "Paliku," rallied for six runs in the last inning yesterday to earn a spot in today's Little League World Series championship game against Mexico.
Watch Waipio's Wonder kids
» Waipio vs. Mexico, on KITV-4 today beginning at 9:30 a.m.

» Friends and family of the team will watch the game at the Mililani Golf Course Restaurant, 95-176 Kuahelani Ave. For more information, call the restaurant at 625-2256.
"Paliku" is Paliku Winchester, the 5-year-old brother of Waipio third baseman Pikai Winchester. Paliku was diagnosed with lymphoma in February and has been a team inspiration.
Pikai drove in Waipio's first run in the second inning and sparked the winning rally in the sixth with a double.
The come-from-behind 7-5 victory over Lake Charles, La., means a Hawaii team will have a chance to bring home a second world championship in four years. Ewa Beach won the Little League World Series in 2005.
Friends and family who did not travel to Pennsylvania for the game are ready to cheer on the team again this morning.
Win or lose, the team can expect a champion's homecoming as the city plans a parade for them and Hawaii's Olympians after they return.
---
FULL STORY »
Heads shook and the crowd began to thin at the Mililani Golf Club Restaurant yesterday as the Waipio Little League team trailed Lake Charles, La., by four runs in the final inning.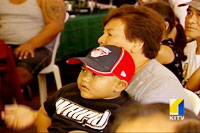 Family & friends were glued to the television as they watched the Waipio Little Leaguers play against Lake Charles of Louisiana.
The tension was too much for 58-year-old Eve Duque, whose grandson Pikai Winchester is one of the standouts on the team. She was among those who had to leave the television for a moment when the team fell behind in South Williamsport, Pa.
"I couldn't watch anymore," she said, wiping away tears of joy. "But when I came back, and they came back ... amazing."
By the time Tanner Tokunaga doubled home two runs with the bases loaded and two outs in the sixth and last inning, the quiet crowd reached a fevered pitch as friends and family cheered the thrilling come-from-behind 7-5 win yesterday.
Every Louisiana strike was a victory. Every run was another excuse to hug and jump for joy.
Mayor Mufi Hannemann, who dropped by to wish the team luck, said win or lose today (when the team plays Mexico), the boys will join Hawaii's Olympians, including decathlon gold medalist Bryan Clay, in a parade of champions.
"I'm planning a parade right now, for Waipio and the Hawaii Olympians," Hannemann said. "It's been a great week for sports."
Yesterday's win also brings recognition to Waipio, a small Central Oahu community between Waipahu and Mililani that often gets overlooked. Some media have referred to the team as Waipahu.
"There are probably people on this same island that make that same mistake," said Richard Poirier, chairman of the Mililani/Waipio/Melemanu Neighborhood Board.
"They've done something great on a national level, and I hope they win (today)," he said. "We're very proud of them."
Mari Vicari, 58, has been friends with many of the Little League parents and arranged to gather everyone at the golf course restaurant.
"Oh my God, it was like my own son was up there," Vicari said. "I see them every day. I see them play. Now they have to get used to all the attention."
Family at the golf course lauded the team's never-quit attitude, but family members never gave up hope, either.
"This team has always been like that, never giving up," said Maury Duque, Pikai Winchester's grandfather, who said he couldn't find words to describe his excitement. "We kept believing, and it happened."
Slugger Keelan Obedoza's grandmother, 54-year-old Christine Obedoza, was operating on no sleep and was at the golf course by 7:30 yesterday morning.
"I'm not even tired," she said. "So much adrenaline. I'm just too proud of them. The good lord is with them."
She was on the phone with family members in Pennsylvania right after the game, exchanging "I love yous" and congratulations.
If Waipio wins today against Mexico, it would be the fourth consecutive title for U.S. teams in the Little League championships. That run began in 2005 when a team from Ewa Beach took the title.
"The Ewa Beach team and us are very close," Obedoza said. "I'm sure if we win this time, they'll dedicate it to them."
The team is also dedicating its win to Pikai Winchester's 5-year-old brother Paliku, who has been diagnosed with lymphoma and is undergoing chemotherapy.
In contrast to the frenzy surrounding him, the boy remained quiet with a red baseball cap pulled over his eyes. He was tired and needed rest.
His courage in battling the disease has been an inspiration to the Waipio Little Leaguers.
In South Williamsport, supporters chanted Paliku's name as the team rallied for its six-run comeback in the sixth inning.
"We're gonna take him home and get some rest," Maury Duque said. "We'll be back to do it all over again. We're ready."