Whole Foods to open Sept. 10
A preview tour shows the inside of the first of four stores in the state
STORY SUMMARY
|
READ THE FULL STORY
More than a year since it first held a Hawaiian blessing, Whole Foods Market is getting ready to open its first store in the isles at Kahala Mall.
Doors will open at 7 a.m. Sept. 10. Hawaii's first Whole Foods will offer gelato, organic juices, a bakery, pizza oven, two salad bars, Keawe-smoked meats, brown rice sushi, 25 kinds of poke -- and a plate lunch station, the first in the chain.
A team of about 130 employees will staff the Kahala Mall Whole Foods Market, which will also offer a Whole Body section with health and beauty products, vitamins and supplements.
NINA WU
---
---
FULL STORY »
The shelves at Hawaii's first Whole Foods Market were being stocked yesterday as staff were busily readying the Kahala Mall store for its opening in two and a half weeks.
WHOLE FOODS AT KAHALA MALL
» Opening day: 7 a.m., Sept. 10

» Size: 28,670 square feet

» Store leaders: Larry Hoover, Ray Stockton

» Vendor relations coordinator: Claire Sullivan

» Employees: 130

» Hours: 7 a.m. to 10 p.m. daily

» Future stores: Maui Mall, Ward, Kailua

Source: Whole Foods Market
An eager crowd is anticipated when Whole Foods opens its doors at 7 a.m. Sept. 10., especially since the announcement and blessing occurred more than a year ago.
The 28,670-square-foot store will be in a space formerly occupied by Star Market, as well as I Love Country Cafe and Patisserie.
In the latest real estate shuffle, Kahala Mall will be the first home for Whole Foods, followed by Maui Mall, then Ward and Kailua. The Ward store, which was initially expected to be the flagship, was also scaled back to about 35,000 square feet from 67,000 square feet.
Larry Hoover and Ray Stockton will be store team leaders for the Kahala Mall store, overseeing a staff of 130 employees. Claire Sullivan, a Punahou graduate, is community and vendor relations coordinator for Whole Foods stores in Hawaii.
Besides some hires from Aloha Airlines, Whole Foods also brought a few employees back to Hawaii from the mainland.
Craig Takashima, a Pearl City High School graduate, worked for Whole Foods in Las Vegas for 11 years as a grocery team leader, and was thrilled to return to the islands.
More space, more light
Upon walking in the front doors, customers will be greeted by a smoothie bar, in addition to coffee, pastries and baked goods on the right.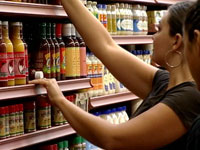 Whole Foods Market plans to open its first store next month at Kahala Mall and KITV's Dan Meisnzahl takes you on a sneak peak.
The new store has higher ceilings with skylights and a floor the same shade as Hawaii's red dirt.
There will also be gelato, smoothies, organic juices, a bakery, pizza oven, hot foods bar, salad bars and a salad case with at least 30 different salads and foods-to-go.
The Kahala Mall Whole Foods store will also offer a plate lunch station, the first in the chain of 270 stores in the U.S. and United Kingdom.
In its seafood section (larger than usual), Whole Foods will offer 25 kinds of poke as well as sushi in both white and brown rice. An educational nonprofit, Paepae O He'eia, which cares for an ancient Hawaiian fishpond in Kaneohe, will supply Whole Foods with ogo and other products.
The meat department will offer natural, organic meats and poultry that can be Keawe-smoked.
At this time, according to Sullivan, none are locally sourced although Whole Foods is speaking with various ranches in Hawaii.
Because of Whole Foods' animal compassion philosophy, it does not sell traditionally raised veal or buy tuna from canneries that impact dolphins in their fishing methods.
At one time, Whole Foods was known to keep its lobsters in separated condominiums for humane reasons. But team leader Ray Stockton said the store no longer sells lobster, and will not carry it in Hawaii.
A charcuterie will offer specialty meats, imported cheeses as well as local goat cheese from Surfing Goat Dairy on Maui, which recently became the first Hawaii farm to earn the Certified Humane Raised & Handled label.
The store will be stocked with local beers, baked breads from Bale, and seven local honeys ranging from Pele's Gold by the Manoa Honey Co. to Royal Hawaiian Honey from the Big Island.
Produce will come from 30 local farms, both organic and conventional, according to Sullivan.
New suppliers include Kumu Farms, which grows fresh herbs and papayas on Molokai, Maui Kombucha, Pacific Floral Exchange on the Big Island, and Sumida Watercress Farm on Oahu.
The Whole Body section will offer body care products, soaps, and perfumes, none of which have been animal tested. There will also be a wide array of vitamins, supplements, and detox kits.
Local suppliers include the Indigenous Soap Co., Hawaiian Bath & Body from the North Shore, and Scents of Knowing from Haiku, Maui. Other popular brands include Alba, Shikai, Nature's Gate, and Avalon Organic, which are carried in Hawaii's other natural foods stores.
Whole Foods also has its own "365 Everyday Value" brand, which includes everything from organic canned fruits to cereal and milk.