LITTLE LEAGUE WORLD SERIES
Waipio heads to LLWS U.S. final
STORY SUMMARY
|
READ THE FULL STORY
SOUTH WILLIAMSPORT, Pa. » The boys from Waipio dig the long ball.
Iolana Akau homered in his first action since getting hit by a pitch, and Pikai Winchester went deep twice as Waipio moved on at the Little League World Series with a 9-4 win last night over Mill Creek, Wash.
Next stop for the hitting Hawaii boys: the U.S. final on Saturday.
It looks as though Akau will be suiting up for the U.S. title game no matter the opponent. He played his first game since getting drilled in the left elbow on Friday, and he wore a padded sleeve on the arm during his first at-bat for added protection.
Akau didn't miss a beat.
With Waipio trailing 2-0, Tanner Tokunaga tied the game in the bottom of the first with a two run-homer to left.
Later, Winchester reached on an error to bring up Akau, whose homer off a 1-2 pitch from Derrick Mahlum rattled off the brick wall just beyond the center-field fence.
NEWS SERVICES
---
---
FULL STORY »
SOUTH WILLIAMSPORT, Pa. » Iolana Akau's expression said it all.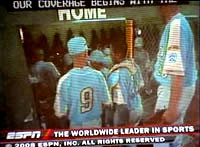 The Waipio baseball team defeated Mill Creek Washington and now heads to the U.S Championships this weekend.
In his first at-bat since returning from an injury, the Waipio Little Leaguer took a healthy swing and lofted the ball toward center. It kept sailing through the air until it hit the hedges outside the fence. Akau started to pump his fist as he rounded first base.
Little did everyone in Lamade Stadium know how much power the Hawaii bats were going to have on this night.
Pikai Winchester hit two opposite-field home runs, while Akau and Tanner Tokunaga also rang up long distance shots, leading Waipio to a 9-4 win over Mill Creek, Wash., last night in the United States semifinals.
Waipio (4-0) moves into Saturday's U.S. Championship against the winner of Louisiana and Florida, which will be played tonight.
Washington (2-2), which had won 71 straight games at one point and were state champs in the 10-year-old and 11-year-old divisions, has been eliminated from the tournament.
Really, the early focus was on Akau. He was struck by a pitch against Connecticut during the team's first game in South Williamsport, and missed the remainder of Hawaii's pool matchups.
Welcome back, Iolana.
"I was pretty anxious," said Akau, whose homer coupled with Tokunaga's gave Waipio a 4-2 lead after the first inning. "It was really my first time out there hitting since I was struck with the pitch. When I got up to bat, I was really nervous. I just wanted to get a base hit and see what happened."
It was his teammate, Winchester, that stole the show.
He hit an opposite-field rocket off Washington's Derrick Mahlum in the third, increasing Waipio's lead to 5-3. He then added another long ball -- this time an opposite-field, two-run homer off relief pitcher Joakim Soderqvist -- for a commanding 9-4 Hawaii advantage.
In the LLWS, the third baseman has three home runs and eight RBIs.
"We are just having a lot of fun at the plate," Winchester smiled.
The long balls were somewhat of a surprise to Scott Mahlum.
The Mill Creek manager watched Hawaii through regionals as the West and Northwest both held their tournaments in San Bernardino, Calif.
"They are too good to give up three unearned runs in the first inning," said coach Mahlum, who said he watched Waipio play about eight times coming into last night's game. "I've said this before. Hawaii is the best team defensively in this tournament. And Winchester is the best hitter here, and he proved me right tonight.
"It's funny because they aren't the biggest, not the strongest and they don't throw the hardest. But mentally and fundamentally, they are as solid as it gets. They are very impressive."
A two-run, two-out single to left-center by Alex Jondal scored teammates Dan Kingma and Jason Todd, as Washington raced out to a 2-0 lead in the very first inning.
That's when Hawaii responded with the two-run homers by Tokunaga and Akau, and never lost the lead from that point forward.
"I wasn't worried because I knew we didn't have a chance to hit yet," Waipio manager Timo Donahue said. "The next time we take the field, there are only two U.S. teams left. That in itself is really saying a lot when you are talking about the top teams in the country. I think that both teams are going to have to play a perfect game just to get into the World Championship."
Washington fought back as a solo home run by KJ Neaville off Waipio starter Caleb Duhay trimmed the deficit to 4-3 in the second inning.
But the Hawaii trio of Duhay, Tokunaga and Christian Donahue settled down and combined on a seven-hitter with 12 strikeouts.
Meanwhile, the Waipio bats unleashed on Washington starter Derrick Mahlum, who entered the game with a 6.00 ERA in the LLWS in only one inning on the mound.
It was another long night for the Mill Creek youngster as he allowed all seven runs -- four of them earned -- in just 2 1/3 innings.
"To be honest, I entered this game thinking we were going to win," Scott Mahlum said. "This year was really more than I could have imagined. It's such a daunting task because there is so much more to it than just managing baseball. It's great, but I am tired. This year is going to be hard to top. We had a great run, there's no doubt, with the 71-game winning streak and making it to the final four of the United States. It's like a dream come true."
Duhay, Jedd Andrade and a two-run double by Kainoa Fong were the other Waipio hits in the game.
Notes: In each of its four games at the LLWS, Waipio has been selected as the home squad, but the Hawaii all-stars didn't need to use its final at-bat in any game. ... Keelen Obedoza must be a magnet for opposing pitchers as the youngster has been struck four times. He was hit twice against Florida, and once each by South Dakota and Washington. His on-base percentage during the Series is .556. ... The attendance for yesterday's semifinal was 16,300. It was the third consecutive Hawaii game where more than 10,000 people viewed it. ... As for how Waipio spent its day off on Tuesday, the team traveled about 30 miles east to Bloomsburg, Pa. and Knoebel's Amusement Resort.