New homeless shelter opens
A facility in Waianae has emergency, rental and transitional units
For 20 years the Rev. Wade "Boo" Soares and his wife opened their Nanakuli home to the homeless. Now, with the help of the state and nonprofit organizations, Soares is helping many families move into a place of their own.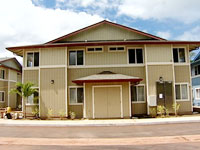 Kahikolu Ohana Hale O Waianae helps the homeless by providing emergency beds, transitional housing, affordable rentals, and tools to help build job skills.
"We're just getting started here. There's so many people out there who need help," Soares said.
More than 200 people attended the dedication ceremony yesterday for Kahikolu Ohana O Waianae, a new emergency, transitional and affordable rental project located behind Waianae Intermediate School.
A new two-story resource center that includes a preschool, nursery and computer lab was also built near the units. The center was created to help residents with child care and job and life-skills training.
"This group of buildings represent hope and opportunity for people, a chance to become self-sufficient," Gov. Linda Lingle said at the ceremony.
State Comptroller Russ Saito, also the state homeless solutions coordinator, said the project would still be on the drawing board if it were not for Lingle, who signed an emergency proclamation in 2006 that addressed the growing number of homeless people living on beaches and parks along the Leeward Coast. "The governor saw a critical need for the project," Saito said.
About $13.5 million in state grants and $3 million from the Harry and Jeanette Weinberg Foundation Inc. went toward the project. The Hawaii Coalition of Christian Churches obtained a 30-year lease from the state for the property. The coalition will pay $1 a year under the lease agreement.
About 14 families have already moved into the facility in recent weeks.
Seventy-two units -- 16 emergency, 32 transitional and 24 affordable units -- were built on the property, which spans more than two acres. Those occupying emergency units have a maximum stay of six weeks at no charge. For the transitional units, there is a maximum stay of two years at $500 a month and a maximum of a year and a half for the affordable units at $700 a month.
Having the three different elements on the same property allows residents to observe their own progress as they move from emergency units to affordable units, Lingle said.
The transitional shelter is the third to open on the Leeward Coast. Onelauena and Paiolu Kaiaulu opened in the past two years. Two more are slated to open later this year.
An 80-unit project called Villages in Maili is slated to open in mid-October, while an estimated 70-unit project called Building 36 is slated to open in Kalaeloa in September.
Millie and Oyate Rising Sun occupied a much smaller space at Paiolu Kaiaulu for a year and a half before Soares handed them the keys to their two-bedroom, two-bathroom affordable unit yesterday.
Millie Rising Sun walked around the spacious unit furnished with dining tables, couches and ceiling fans. "You guys will have your own room," she told her two older kids, 9-year-old Zerius and 2-year-old Zeryus, as she held her youngest child, Xaiyon, in her arms.
Tears of joy brimmed in Rising Sun's eyes as she stood in the unit, which symbolizes a new start for the family.
"It's exciting," she said.