Ex-driver wants plea withdrawn
A former employee of Roberts Hawaii did not have his urine tested, his lawyer says
A former Roberts Hawaii tour bus driver accused of man- slaughter is attempting to withdraw his no-contest plea because it turns out his urine sample was never tested for drugs.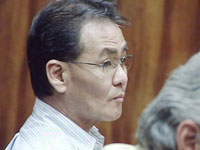 Tour Bus driver Steve Oshiro is in prison for killing another driver in a crash in Kahaluu. He claims he wasn't on drugs or alcohol and that police missed a chance to test him right after the crash.
Former Roberts driver Steve Oshiro gave Castle Medical Center officials a urine sample after he crashed his bus into a sport utility vehicle in Kahaluu two years ago, killing the SUV driver, said Michael Green, Oshiro's lawyer.
But Castle officials did not analyze the sample for the presence of drugs or alcohol because they could not guarantee the sample had not been tampered with.
"There was no chain of custody," said Green. "No one preserved it. And the lawyer wanted to know who's been watching this sample." Green said a Roberts attorney blocked the testing of the urine sample.
Oshiro, 50, pleaded no contest to manslaughter in January for causing the death of 41-year-old Corey Voss on Kamehameha Highway on June 12, 2006. He is trying to withdraw his plea based on information that wasn't available to him and his previous lawyer in January.
Prosecutor Peter Carlisle says Oshiro was aware off all of the state's evidence against him when he decided to plead no contest to manslaughter.
Circuit Judge Dexter Del Rosario has requested more information from both sides and will hear further arguments next month.
David Hayakawa, Oshiro's former lawyer, testified yesterday that he discovered Oshiro might have submitted a urine sample only after he helped Oshiro work out a plea agreement with the state.
"I was told that he had and I could not find any confirmation of it," Hayakawa said.
Green said police knew that there was a problem with the urine sample while Oshiro was still at Castle and could have ordered him to provide another sample but didn't.
He said Hayakawa also did not know that Oshiro was working 90 hours per week. He said exhaustion -- not impairment due to drug or alcohol use -- is the reason Oshiro was driving erratically on a previous trip earlier in the day that was recorded on videotape by a passenger.
"They're working 70-80 hours a week. They cook their books so it doesn't (show) how many hours they're working. And if they don't want to work, they get fired," Green said.
Oshiro tried to go home after he was involved in a minor collision with a city bus on the morning of the crash but was told he would be fired if he did, Green said.
Oshiro is suing Roberts and an assistant operations manager for the crash.
Roberts fired Oshiro after the crash that killed Voss, allegedly for refusing a company-ordered drug and alcohol test. But Green said the company did not attempt to test Oshiro.