Bins for yard waste delivered to residents
Going green: East Oahu gets new containers
Walter Kaaihili has watched Kuliouou slowly change.
"When I first lived here, we didn't have sidewalks ," said the 73-year-old , who lived on Kuliouou Road in the early 1950s and moved back in 1980. "I helped my father-in-law build this house."
Yesterday, the longtime Kuliouou homeowner stood on the curb with Kalau Jones as employees from Royal Hawaiian Movers assembled and distributed green bins. The delivery marked the start of a new phase for the city's curbside recycling program that will expand to the area from Kuliouou to Manoa. Overall, the new program was welcomed in the neighborhood.
"Why did it take so long?" said Jones, who lives next door to Kaaihili. "They should have been here years ago."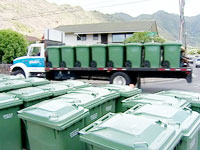 This time to East Oahu, the latest area slated to get curbside recycling pick up.
Crews delivered more than 1,000 green-waste bins to residents yesterday. The containers will be used for yard waste. Bin deliveries will continue for about three weeks. In total, the city Department of Environmental Services will provide 24,000 homes in East Honolulu with bins, at $90 per container.
"It's much more convenient," said Kuliouou Road resident Colin Peters.
In October 2007, the city launched its pilot curbside recycling program in Mililani and Hawaii Kai. When the program begins in this next phase, household trash will be picked up as usual twice a week for a two-month transitional period.
Residents will have to adjust to a new schedule beginning in January: Gray bins will be picked up once a week and the blue and green bins will each be emptied twice a month.
Changing the refuse pickup schedule might sound perplexing at first. But the only people confused during last year's pilot recycling program were those who could not find the instructions, said Robert Aona, refuse collection supervisor with the department.
"The first time we actually hung them in the blue cans, so unless you actually opened the blue can and opened the lid you couldn't see it," said Aona.
Organizers this time taped brief program descriptions to the bins. But some still have questions.
"They asked us if we had the blue ones and I said, 'Huh?'" said Jones. "The blue one is for the recyclables?"
Blue bins designed for recycling will be delivered around September or October, along with more detailed program instructions.
With the new program slated to start Nov. 3, residents have plenty of time to adjust.
Despite some confusion, most are content with having new bins to dispose of their yard waste rather than leaving it on the curb like in the past. Kuliouou residents look forward to keeping the road free of clutter. It's a road that Kaaihili says he intends to live on for the rest of his life.
"This should make the place look nicer," said Kaaihili. "I like it. I think it's going to be all right."