Perfect for Pesto
Blend herbs, seasoning and cheese with olive oil for a tasty sauce that needs no cooking
»
Any Time's right for Pesto
Indian and Asian spices are often roasted and ground to better release their flavors into oil, and pesto is basically the same idea applied to fresh herbs. In Liguria, on Italy's Mediterranean coast, pesto originated as a convenient way to hold the fresh taste of basil suspended in oil for days without a refrigerator.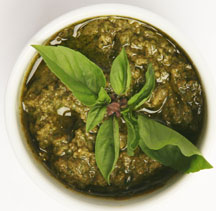 Even today, pesto is loved for its convenience: Blend olive oil with a handful of herbs, seasoning and cheese, and you have a fresh-tasting sauce that needs no cooking yet blooms with flavor released by the heat of the food itself. Pesto can be frozen as a way to preserve a bounty of fresh herbs, and it's basically hard to screw up, as long as you keep tasting it. If it seems to lack zip, try adding lemon or lime juice, or more salt.
Almost any herb or combination can be turned into pesto, and most of the ingredients can be ad-libbed. Try substituting walnuts, almonds, pecans or macadamia nuts, and skip the cheese if you don't have any -- it's better left out of pestos based on cilantro, for example. If you do add cheese, stick to parmigiano reggiano or a similar hard, aged, nonsharp cheese, and use it sparingly so as not to overpower the herb flavor. Always stir in cheese at the end, before serving, and leave it out of pesto that will be frozen.
Purists swear by the results of grinding pesto by hand: The Italian "pestare," to pound, is the root word also for pestle, which is what Genovese grandmas use to grind herbs, garlic, salt and pine nuts against the walls of a bowl in what is still advocated as a 20-minute cure for depression.
I tried it once, to see if it truly made for a more sweet, subtle, creamy, jewel-colored pesto and happy cook, thinking I could shave a few minutes by using a suribachi. Sure enough, in 12 minutes of grinding I had a creamy green mash that did not separate when oil was stirred in, but the lack of convenience left me less happy than advertised.
A blender will make pesto in two minutes, max, the main difference being that you have to stream the oil in gradually, as for salad dressing, to discourage separation. (Food processors are not as successful at this.) If you are storing pesto, either refrigerated or frozen, add a protective layer of olive oil on top.
Pesto with pasta is typical, of course, diluted with a little starchy cooking water. Mashed potatoes are also traditional. More exotic combinations might call for a little experimentation. How about a mint and parsley pesto with lamb? Chili pepper pesto on shrimp? Add a dollop of pesto to roasted vegetables, chops, or a vegetable soup (in Italy it's mixed into minestrone). Pesto can also be extended with plain yogurt or ricotta cheese, or thinned with vinaigrette to make a salad dressing. Whatever you choose, keep it fast and simple: That's my recipe for a pesto that steers clear of deja-vu depression.
Parsley pesto
Adapted from Bobby Flay, 1999
2 cups parsley leaves
2 garlic cloves
2 tablespoons pumpkin seeds
2 tablespoons lime juice
1/2 cup olive oil
Blend all ingredients except oil. Slowly add oil until emulsified. Season with salt and pepper. Great all-purpose pesto.
Cilantro pesto
www.elise.com
2 packed cups cilantro leaves
1/2 cup blanched almonds
1/4 cup chopped red onion
1/2 teaspoon chopped and seeded Serrano chili
1/2 teaspoon salt
3 tablespoons olive oil
Juice of 1 lime
Blend ingredients until smooth. Try it with any dish where you would use cilantro, such as Mexican or Thai food. Thin it with sour cream as a dressing for tacos, or with ricotta as a dip for tortilla chips.
Walnut-rosemary pesto
Adapted from Rachel Ray, 2007
1-1/2 cups walnuts
7 to 8 stems rosemary (1/4 to 1/3 cup leaves)
1 clove garlic, skinned
1/3 cup olive oil
1/2 cup or more grated parmigiano reggiano
Toast walnuts in a dry skillet over medium heat a few minutes until golden and fragrant. When cool, blend with rosemary, garlic, salt and pepper. Stream in olive oil. Stir in cheese. Great with pork or lamb chops.
Arugula pesto
Adapted from Emeril Lagasse, 2002
1 bunch arugula leaves
1/2 cup packed parsley leaves
1/2 cup lightly toasted walnuts
2 teaspoons minced garlic
1/2 cup grated parmesan
1 teaspoon lemon juice
Salt and pepper
1/2 cup olive oil
Blend ingredients, then add oil in a steady stream and process until smooth.
Good with chicken or a mild-flavored fish.
Red chili pesto
Adapted from Bobby Flay
2 ancho chili pods and 2 New Mexico chili pods (or substitute another dried chili)
1 tablespoon honey
1/4 cup cilantro leaves
3 cloves garlic, chopped
2 tablespoons pine nuts
1/2 cup olive oil
Salt and pepper, to taste
Soak chilies in boiling water at least 30 minutes, until soft. Coarsely chop chilies, reserving liquid. Blend 1/4 cup liquid with chilies, honey, cilantro, garlic and nuts. Slowly add oil, then season with salt and pepper.
Use as a sauce for seafood, thinned with soaking water, white wine and honey.
Note: Smaller dried chilies will be considerably hotter.
Parsley mint pistachio pesto
Sunset magazine, April 2008
1 cup shelled, roasted, salted pistachios
2 cups each Italian parsley and mint
1 cup olive oil
Remove skins from nuts by rubbing in a towel. Blend with herbs and olive oil, season with salt and pepper.
An unusual pesto for pasta, potatoes or sandwiches.
Green Onion Pesto
Adapted from Bobby Flay, 2001
2 tablespoons pumpkin seeds
2 cloves garlic
6 spinach leaves
3 tablespoons chopped cilantro
6 green onions, coarsely chopped
3 tablespoons fresh lime juice
1/4 cup olive oil
3 tablespoons grated Parmesan
2 tablespoons honey
Salt and pepper, to taste
Combine first four ingredients and blend until smooth. Add green onions and lime juice, then oil. Combine with the parmesan and honey. Add salt and pepper to taste.
Nutritional information unavailable.