Hikers evacuated from fire on Kauai
KEE, Kauai » A brush fire in a remote Kauai valley that started early Sunday morning continued to burn last night, closing a popular hiking trail and forcing about 35 people to be ferried out of the area by firefighters.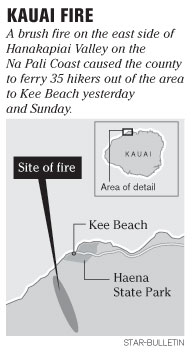 As of yesterday afternoon the fire had burned approximately 50 acres on the east side of Hanakapiai Valley on the Na Pali Coast, accessible only via the ocean and the Kalalau Trail.
The Kalalau Trail remains closed, and hikers and campers along the trail who were stuck on the north end of the fire have been evacuated by firefighters via Zodiac boat and jet ski to the trail head at Kee Beach, said Deborah Ward, spokeswoman for the Department of Land and Natural Resources.
The DLNR has also posted a Division of Forestry and Wildlife officer at the Kalalau side of the fire to keep people from entering the area, Ward added.
"DLNR will secure the trail until ... fire officials deem it is safe for people to safely pass through the burned area," she added.
Backed up by county firefighters, 11 forestry division personnel fought the blaze on the ground yesterday.
They were joined by a Sikorsky helicopter contracted by the Pacific Missile Range Facility, said spokesman Tom Clements. The county's contract helicopter was unavailable as it is undergoing maintenance.
The missile range's helicopter, operated by Croman Corp., spent about 2 1/2 hours at the scene, dumping 15 to 20 500-gallon buckets of water on the fire, Clements added.
The fire started late Saturday or early Sunday morning but was not reported for hours.
It was first reported to lifeguards at Kee at 10:18 a.m., but kayakers James Moriarty and Michael Johnson of New York, on a tour of the Na Pali Coast, spotted the fire well before 8 a.m., they said yesterday.
Thick smoke was visible throughout the valley and for miles over the water, and flames were visible as well, Johnson said. Their tour guides reported the fire via radio, but apparently their call was not retrieved by emergency personnel.
"I'm surprised no one else called it in," Johnson added.
The cause of the fire is under investigation.