Reopening of school prompts traffic alert
The state is encouraging people to use car pools to reduce gridlock into town as thousands of students return to school starting Monday.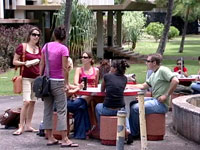 With a variety of students returning to the classrooms, they urge all drivers to leave early and expect to spend more time commuting.
Since the state changed the minimum occupancy for the ZipperLane to three people from two people last month, the number of vehicles dropped by 50 percent, allowing carpoolers to reach town in 25 minutes, compared with an hour or longer on the other lanes.
"The ZipperLane has been providing free-flow conditions, meaning you can drive the speed limit end to end at almost any time of the morning commute," said state Transportation Director Brennon Morioka yesterday at a news conference at the Honolulu Traffic Management Center.
Carpooling is one of several alternatives that officials reminded motorists to consider as more than 55,000 students return to school starting Monday. TheBus, TheBoat and Vanpool Hawaii are among the alternatives available to commuters to reduce traffic congestion during morning peak hour traffic.
Since the state Department of Transportation changed the ZipperLane's minimum occupancy on July 8, the lane has been handling about 1,700 vehicles daily, compared with 3,400 previously, but with the same amount of people, about 5,190. The occupancy rate was changed during the summer to allow motorists to adjust before the start of heavy traffic when colleges and private schools with high enrollment begin the school year.
Recent information gathered by city buses equipped with global positioning systems indicated a consistent travel time of 25 minutes compared with 45 minutes to well more than an hour prior to the change. The 15-mile lane from Waikele to Iwilei is open to motorists from 5:30 to 8:30 a.m.
Morioka said the full impact of the occupancy change remains to be seen in the coming weeks. "Right now traffic is still light," Morioka said. A study is slated to be done by transportation officials next month to gather accurate travel times for the ZipperLane.
To help motorists find people to carpool with, the Department of Transportation has a Ride Share program to match individuals with car pools in their communities. For more information, call the Ride Share coordinator at 692-7695 or e-mail rideshare@hawaii.gov.
Alternative rides
Here are some alternative modes of transportation to reduce traffic gridlock:

» TheBus offers express service during morning and afternoon rush hours. University and college students can also purchase discounted U-Pass bus passes. Businesses can participate in the city's tax-deductible bus pass program for employees. For more information, call 848-5555 or visit www.thebus.org.

» TheBoat ferry system provides an hourlong ride from Kalaeloa Harbor to Aloha Tower. Three departure times, each in the morning and afternoon, are available. For more information, call 848-5555 or visit www.tryboat.com.

» Vanpool Hawaii offers a group of commuters a vehicle. Cost start at $55 per person monthly. Van-poolers also share fuel and parking costs. Children may join as long as one of their parents is part of the Vanpool. For more information, go to 596-VANS (8267) or visit www.vanpoolhawaii.com.

» The Leeward Oahu Transportation Management Association offers free car-pool matching, commuter express buses and the emergency ride home program. For more information, call 677-RIDE (7433) or visit www.lotma.org.

Source: State Department of Transportation