Man guilty of murder in North Shore shooting
A state jury deliberated less than half a day before finding Dustin Jimenez guilty of murder yesterday in the shooting death of a man who arrived home in the middle of a street brawl.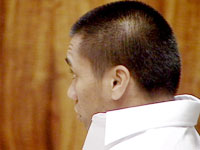 Guilty on all changes including murder that's the verdict handed down to a man who killed a North Shore father.
Jimenez, 22, shot Dillon Ching near Ching's Sunset Beach home May 19, 2007, just before midnight. Ching, 30, bled to death from a round that punctured his right lung.
Jimenez said he fired two rounds from a 9 mm semiautomatic handgun at Ching because he thought Ching was about to attack him.
The jury found him guilty of second-degree murder, use of a firearm to commit a felony, carrying a firearm without a permit, terroristic threatening and reckless endangering.
"It still doesn't make sense with what the defendant said during his testimony, that for no particular reason he took the firearm with him after having an argument with his girlfriend," said Wayne Tashima, deputy prosecutor.
Circuit Judge Richard Perkins will impose the mandatory life prison term with the possibility of parole when he sentences Jimenez in December. The law also requires Perkins to order Jimenez to serve a mandatory minimum of 20 years in prison before he is eligible for parole because Jimenez used a firearm to commit his crimes.
"I'm finally relieved that everything's over and that my husband, Dillon, can finally rest and me and my two boys can finally move on with our life," said Desiree Ching.
Ching testified that Jimenez taunted her husband before shooting him.
Jimenez's mother, Theresa Jimenez, was in court yesterday to hear the jury's verdict. She offered an apology to the Ching family for what her son did but believes her only child fired in self-defense.
She said she did not know her son owned a firearm, and urges parents to be involved in their kids' lives.
"I just wish, have better communication with children, especially at that age," she said.
Witnesses said as many as 40 people were fighting with fists, beer bottles and baseball bats in the middle of Kamehameha Highway or on either side when Ching, his wife and then-3-year-old son arrived home from a party in Wahiawa.
The fight was between people who had been drinking at the Chings' home and people, including Jimenez, who had been drinking across the street at a beach area known as Pine Trees.
Desiree Ching said she told her husband to find out what was going on and to help his two brothers, who were in the middle of the melee.
Jimenez said he fired at least two shots in the air to try to break up the fighting.
Witnesses said Jimenez then lowered the handgun and fired at Dillon Ching.
Jimenez testified he fled after the shooting and threw the handgun into a garbage can. Police have not recovered the weapon.