Go! posts loss despite increase in income
STORY SUMMARY »
|
READ THE FULL STORY
Go! -- the 2-year-old interisland carrier that is still looking for its first profitable quarter -- lost $7.4 million in the period ended June 30 to extend its losses since entering Hawaii in June 2006 to $42.1 million.
The loss, which included several one-time expenses, wiped out what would have been a fiscal third-quarter profit for parent company Mesa Air Group Inc., which lost $3.8 million after posting net income of $2.6 million a year ago.
Go!, which lost $3.7 million in the year-earlier quarter, more than doubled its revenue to $15.6 million from $6.2 million due to a 46.4 percent increase in passengers and a 69 percent increase in average fares.
DAVE SEGAL
---
FULL STORY »
Go!, the interisland airline operated by Phoenix-based
Mesa Air Group Inc.,
saw its operating loss swell by $7.4 million in its fiscal third quarter despite the shutdown of Aloha Airlines.
Third-quarter loss:
$7.4 million
Year-earlier loss:
$3.7 million
But the 2-year-old carrier which now has lost $42.1 million since beginning service in June 2006, said part of its loss was attributable to a $5.6 million increase in legal and consulting fees due to lawsuits involving
Hawaiian
and Aloha airlines.
There also were other one-time expenses that Mesa Chairman and Chief Executive Jonathan Ornstein said were "a significant portion of the loss."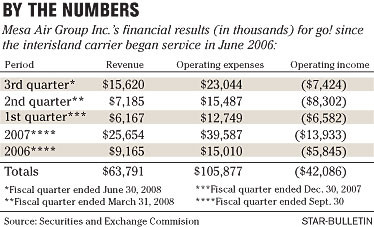 Mesa said in a regulatory filing yesterday that go!'s revenue more than doubled to $15.6 million from $6.2 million in the period ended June 30 due to a 46.4 percent increase in passengers and a 69 percent increase in average fares. However, operating expenses also more than doubled, rising to $23 million from $9.9 million, with go!'s fuel costs rising $3.8 million over the year-earlier period and go!'s engine expenses rising by $2.4 million.
Go!'s operating loss in the year-earlier quarter was $3.7 million.
Mesa is scheduled to hold a conference call this morning to discuss its earnings.
"We remain firmly committed to our go! operation in Hawaii," Ornstein said yesterday. "We think fuel prices have moderated significantly, which has been extremely beneficial, and load factors and yields have continued to improve. The quarter had a significant amount of one-time expenses involving lease returns, legal expenses and costs of swapping the aircraft in and out of Hawaii."
Go!, which like all airlines has had to raise fares due to higher fuel costs, benefited from the demise of Aloha after the 62-year-old carrier shut down passenger operations on March 31. Go! boosted its interisland capacity and at its peak was operating 88 flights a day with its seven 50-seat CRJ-200s. Go! has since reduced its capacity by about 15 percent in preparation for the historically slow fall season, Ornstein said. The airline sent back one of its CRJ-200s about a month ago and said going forward it intends to meet capacity demand.
Overall, Mesa swung to a loss of $3.8 million from a profit of $2.6 million a year ago. Revenue rose 4 percent to $353.9 million from $340.4 million. Operating expenses increased 9.3 percent to $357.1 million from $326.8 million, with fuel costs rising 28 percent to $149.2 million from $116.6 million.
Mesa, which paid Hawaiian $52.5 million last quarter to settle a lawsuit regarding the misuse of proprietary Hawaiian information, still is involved in legal action with Aloha. Last week, Mesa held a settlement conference with Yucaipa Corporate Initiative Fund I, LP, the former majority investor of Aloha which in June purchased a 2006 lawsuit that Aloha had filed against Mesa. No settlement was reached over charges that Mesa engaged in predatory pricing to drive Aloha out of business and used propriety information gathered as a potential investor in 2005 during Aloha's first bankruptcy.