Marine-debris awareness efforts unite
STORY SUMMARY
|
READ THE FULL STORY
Two unlikely vessels plying the Pacific to underscore the problem of floating trash in the ocean met briefly last week on their way to Hawaii.
The Junk, a sail-powered raft made of plastic bottles and other refuse supporting a Cessna fuselage, and the Brocade, a boat rowed solo by Roz Savage, rendezvoused Tuesday about 600 miles northwest of the islands.
Savage had to backtrack to meet the Junk but said the effort and lost time were worth it to have her first human contact since May 25.
The two vessels also swapped food and a desalination device.
ROB SHIKINA
FULL STORY »
Hundreds of miles out at sea, three people making their way to Hawaii to raise awareness about the environment met unexpectedly in the "toilet bowl" of the Pacific last week.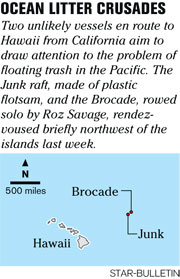 The three are taking part in two separate expeditions to raise awareness of plastic marine debris.
One group is trying to bring attention to an area of plastic debris in the ocean called the North Pacific Gyre.
Marcus Eriksen, one of two men in that team, wrote on the boat's blog: "The North Pacific Gyre is a clockwise rotating mass of water roughly twice the size of the U.S. where currents and winds slow down.
"It's like a toilet bowl that never flushes." The blog can be found at junkraft.blogspot.com.
Joel Pashal is sailing along with Eriksen on Junk, a vessel made of other people's trash. Junk's pontoons are made of 15,000 plastic bottles held together by discarded fishing nets, while its hull is the fuselage of a Cessna plane. On June 1 the boat left Long Beach, Calif., for the roughly 2,400-mile trip to Hawaii.
"Those two hours, 600 miles from land, the highlight of our trip, an encounter with tremendous joy and gratitude, were spent with Roz Savage aboard Junk."
Marcus Eriksen
A sailor with Joel Pashal aboard Junk, a vessel made of other people's trash
Roz Savage is rowing a 23-foot boat, the Brocade, from San Francisco to Hawaii to become the first woman to row solo across the Pacific as well as to raise awareness of the environment. She left San Francisco May 25.
While the two parties set out on separate missions, they were able to meet up briefly Tuesday about 600 miles from Hawaii.
"Those two hours, 600 miles from land, the highlight of our trip, an encounter with tremendous joy and gratitude, were spent with Roz Savage aboard Junk," Eriksen wrote. "We knew our time would be short, and that we hadn't seen other human beings for 2 1/2 months."
Savage had to paddle back to meet the Junk.
"This caused me a minor personal crisis," she wrote on her blog at rozsavage.com. "After nearly three months of heading west, west, always west, it felt totally unnatural to turn the Brocade's bows deliberately to point east."
But it was worth the lost distance to see the raft, she said.
"And what a vessel she is," she wrote. "I am so glad to have seen her -- or I may not have believed her. ... I thought she was very cool indeed."
The two groups made a trade at sea, with Savage giving the pair three bags of food and the guys giving her a device to desalinate sea water after hers broke.
"It was a minimiracle that all that happened," said Anna Cummins, who is working from land with the Junk crew members. Cummins is education adviser for Algalita Marine Research Foundation, the nonprofit that organized Junk's trip.
Cummins said Junk is now in the "plastic soup."
She said the debris is not easily visible from the surface of the ocean, but using a net to skim the surface will pull up plastic confettilike debris, so much that it is competing with plankton as a food source.
The trash is coming from the United States, Asia and Europe and extends from 500 miles off the coast of California across the Pacific to Japan. Hawaii is on the skirts of the gyre.
The plastics make their way into sea turtles, birds, fish and whales. Recently after a voyage into the gyre, scientists found dozens of pieces of plastic in a lantern fish a couple inches long.
Cummins said since the pollution in the gyre was first observed in 1999, it has grown exponentially, from a plastics-to-plankton ratio of 6-to-1 back then to roughly 30-to-1 this year.
Cleanup is not an option, Cummins said.
"We'd like to see greater personal responsibility for limited one-time use of plastics and more responsible policy for limiting single-use disposables," she said.
Junk is expected to reach the Ala Wai Boat Harbor on Aug. 27; Savage is expected in Waikiki at the end of the month.