Woman, 86, hospitalized after being hit by truck
A tractor-trailer truck hit an 86-year-old woman crossing Sheridan Street in a marked crosswalk near Walmart yesterday morning, sending the woman to the hospital in critical condition.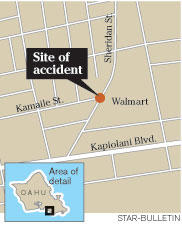 Police said the 1994 International truck, with trailer attached, was traveling makai when it struck the elderly woman while she was crossing Sheridan at Kamaile Street at 6:54 a.m. The woman was dragged up to the gate on the rear loading dock of Walmart.
Police suspect the driver might not have seen the woman because of the height of the truck. Speed, alcohol and drugs do not appear to be factors in the crash.
On June 10, a large delivery truck hit and killed 84-year-old Florence Tamura in Kahala. She was pinned beneath the truck's tires.
Tamura was crossing the driveway of the Kahala Chevron Station when the truck was pulling out and the driver apparently didn't see her.
There have been a number of serious accidents and at least 10 pedestrian deaths on Oahu so far this year.
The state Department of Transportation and AAA Hawaii have started a "Walk Wise Hawaii" project, distributing bright yellow flags for pedestrians to wave as they cross the street.