Palace clash sparks inquiry
The police and 911 operators allegedly failed to help workers
»
Break-in went too far, say sovereignty activists
» Purported monarch couldn't find throne
STORY SUMMARY »
Iolani Palace remained closed to the public yesterday and officials could not say yet when it would reopen after a group calling itself the Kingdom of Hawaii, Nation locked the palace gates Friday, which was Statehood Day, entered the palace itself and attempted to sit its leader on the throne.
Police arrested 23 people, some of whom posted bail yesterday.
The group's leader, James Kimo Akahi of Haiku, Maui, called himself the king of Hawaii.
Yesterday, Akahi said the group was planning to chain him to the throne, but couldn't find the throne room because they had never been to the palace before.
Gov. Linda Lingle said she is calling for an investigation by the state Attorney General into allegations that a police sergeant didn't respond to calls for help from a palace employee because the palace is not in Honolulu police jurisdiction and that 911 dispatchers also refused initial calls for help.
---
FULL STORY »
The state Attorney General and Honolulu police will investigate allegations that police did not provide prompt assistance during Friday's attempted Iolani Palace takeover.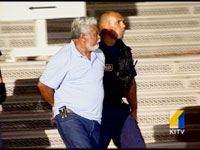 22 people of a Hawaiian sovereignty group were arrested after illegally occupying the Iolani Palace.
Witnesses said a Honolulu police sergeant stood by when a palace employee called for help when she was allegedly manhandled inside the gates of the palace, which is state property.
City 911 operators also told palace employees that state property is outside police jurisdiction when Iolani Palace employees called for help, palace officials said.
"Until we get the facts, I don't want to jump to any conclusions right now because these are very serious allegations," Gov. Linda Lingle said yesterday.
Lingle said she instructed the state Attorney General's Office to investigate both incidents, including reviewing the 911 tapes and interviewing the police sergeant allegedly involved.
In a written statement, Honolulu Police Chief Boisse Correa said he is aware of the allegations, and has ordered an internal review.
Correa defended the police response, saying that their assistance was requested by the state Department of Public Safety.
"As a result of the request, I authorized that all necessary resources be provided," Correa said. "The actions taken by our officers last night were appropriate."
The palace grounds remained closed to the public this weekend after members of a group called the Kingdom of Hawaii, Nation locked the gates of Iolani Palace and entered the palace starting at 5:30 p.m. Friday.
About two dozen police officers responded to the scene. Palace facilities manager Noelani Ah Yuen said she was assaulted at about 6:30 p.m. when she approached the east gate to talk with group members.
She claims three people began slamming the gate on her. When she called out for help to a nearby police sergeant, he allegedly told her it was not his jurisdiction.
Ah Yuen went to the hospital for her injuries and was treated and released at about 1:30 a.m. yesterday. She said she had some scrapes and a sore back and neck.
Palace employees and Kippen de Alba Chu, executive director of the Friends of Iolani Palace, also said they were denied assistance when they called 911.
"I'm outraged that this happened," de Alba Chu said. "I'm concerned for the safety of our employees if something more comes up. I'm also concerned for the safety of the visitors to the palace."
Lingle said the jurisdiction issue came up in May when another group, the Hawaiian Kingdom Government, locked out visitors to the palace. During that incident, state sheriffs spearheaded law enforcement activity and the Honolulu Police Department did not get involved except when Correa visited the group to talk informally.
"I spoke with Chief Correa at the time and he talked about the jurisdictional issues. We sort of let it pass at the time," Lingle said.
Lingle noted the police department was able to provide security for Democratic presidential candidate Sen. Barack Obama at the Honolulu Airport last week.
"That's not city property, that's state property," Lingle said. "They were providing security. So to say that you're not going to provide security for our own citizens at a state facility would be a serious breach of their oath."
State officers arrested 23 members of the group Friday -- 15 were booked and charged on suspicion of second-degree criminal trespassing, a petty misdemeanor. All were released after posting $50 bail. They are expected to be arraigned in District Court four weeks from Friday.
The other eight, including the group's leader James Kimo Akahi, were booked on suspicion of second-degree burglary, a felony. Seven remained at the downtown cellblock yesterday evening.
Despite Ah Yuen's allegations, there were no assault arrests.
Palace officials said a preliminary evaluation showed that no artifacts in the palace were damaged or stolen. Three locks, including securing the throne room, were damaged.
De Alba Chu described his "profound sadness" at Friday's incident.
"They are placing priceless artifacts of Hawaiian history at extreme risk," he said. "These actions are extremely selfish. Had they broken something, future generations would not be able to appreciate these things."