ALOHA OBAMA
Obama celebrates, honors the past
He catches a few waves at Sandy's before taking off
»
Senator leaves
STORY SUMMARY »
With less than two weeks to go before he accepts the Democratic nomination for president, U.S. Sen. Barack Obama left Hawaii for Chicago this morning as his eight-day vacation ended.
Obama and his family enjoyed snorkeling at Hanauma Bay and a visit to the USS Arizona Memorial at Pearl Harbor yesterday, where a crowd spotted him and took up a chant, "Obama, Obama!"
The Hawaii-born Illinois senator also took time to toss lei flowers into the breakers near Halona Blowhole, where the ashes of his mother were scattered in 1995.
Then he hit the surf at Sandy's.
"He was doing great," said lifeguard Peter Erwin, who accompanied Obama in the water. "He got wiped out a few times just like everyone does down here. He jumped right up and went, 'Oh, that was a good one,' and went back out and caught some more."
---
FULL STORY »
U.S. Sen. Barack Obama headed back to the mainland and the intensity of the presidential campaign today after a weeklong vacation with his family in the state where he was born.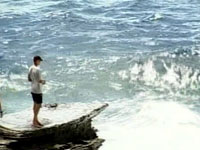 Presidential candidate makes several stops around the island.
His plane was scheduled to leave Honolulu Airport at 10 a.m.
The Illinois senator's last full day of vacation in Hawaii yesterday was filled with both tourist and personal moments and was capped by a long visit with his grandmother and dinner at the Obamas' rented beach house in Kailua.
Perhaps the most poignant -- and dramatic -- moment of yesterday's activities came when Obama tossed a white flower lei into the ocean where his mother's ashes were spread 13 years ago. The Democratic candidate ambled down a rocky slope on Oahu's Ka Iwi coastline, near the Halona Blowhole, to an outcrop where waves crashed against the shore, sending a giant spray over the rock where he stood.
Two high school friends and a Secret Service agent accompanied him as a small crowd of onlookers watched from a distant lookout point.
Obama kissed the lei, then broke it so he could let several flowers fly into the water at a time in memory of his mother, Ann Dunham, who died in 1995. Obama keeps a photo of the Ka Iwi cliffs in his U.S. Senate office.
In the morning, Obama's motorcade, which included five cars and two police vehicles, arrived at Hanauma Bay at 8:29, just in time to greet the rain and Mayor Mufi Hannemann.
Obama, who wore his favorite White Sox cap, a gray T-shirt, black shorts and rubber slippers, carried a large Macy's shopping bag filled with beach gear.
Obama was accompanied by his children and longtime friends Marty Nesbitt and Eric Whitaker, who have been with him in Hawaii throughout his vacation. His wife, Michelle, was not present.
At 10:56 a.m. Obama left most other members of his entourage, including his daughters, behind.
After the stop at the blowhole, Obama, accompanied by high-school pals Greg Orme and Bobby Titcomb, hit Sandy's Beach, where Obama and Orme took off their shirts and promptly dived into a wave. After surfacing, Obama shook hands with nearby swimmers.
Obama bodysurfed and joked around with friends for about half an hour. About 20 people stood on the beach and gawked as the presumptive Democratic nominee played in his home surf. Other sunbathers and swimmers seemed oblivious to his visit.
At 11:37 a.m. Obama left Sandy Beach to return to Hanauma Bay where he reconnected with other friends and family members. The entire motorcade left at 12:01 p.m. and returned to Obama's Kailua rental at 12:37 p.m.
At 1:52 p.m., Obama's motorcade left Kailua and headed to the Arizona Memorial.
Obama was accompanied by his wife, Michelle, his daughters and other friends and extended family members. There were about 24 people in their party.
Obama, who had changed into a white polo shirt and Levis, was still wearing his favorite baseball cap. Michelle Obama wore a white tank top and white capri pants.
The group boarded a private ferry for their trip to the memorial. Upon entering the vessel, Obama shook hands with assembled sailors.
Upon entering the memorial, Obama held hands with his older daughter, 10-year-old Malia, as he approached the wall of names. Daniel Martinez, chief historian for the USS Arizona Memorial, explained the significance of the wall to the Obama family.
While the family visited the site, another ferry load of passengers was allowed to board. Some visitors were so mesmerized by Obama and his entourage that they missed their own ferry.
One family was so distracted by the commotion surrounding Obama that they lost track of their 6-year-old daughter. When it was determined that she had inadvertently taken an earlier ferry, her family was allowed to catch a ride with Obama's private group.
After a visit to his grandmother Madelyn Dunham, in the Punahou area, the Obamas headed back to the Kailua residence for dinner.
Star-Bulletin staff, the Associated Press and the media pool contributed to this report.