Longs to keep identity despite $2.9B purchase
CVS Caremark will keep Longs relatively unchanged in Hawaii after the acquisition
STORY SUMMARY »
CVS Caremark Corp. of Woonsocket, R.I., has acquired Walnut Creek, Calif.-based Longs Drugs Stores Corp. for $2.9 billion, including the assumption of debt.
While the Longs stores in mainland states will eventually be changed to CVS Pharmacy, isle locations will remain under the same name.
CVS, which earns $85 billion in annual revenue, said Longs Drugs has such a loyal following here that it wouldn't make sense to change the name. CVS also said it would retain management and employees in Hawaii, and has no plans to change the store format.
CVS will acquire 521 Longs stores -- 39 of which are in Hawaii, not including two stores under construction -- in addition to its Rx America subsidiary.
CVS hailed the deal as a way to expand its store network further west. With the Longs acquisition, it will operate about 6,800 drugstores nationwide.
---
FULL STORY »
It's the end of an era for Longs Drugs.
Longs Drug Stores
Entry to Hawaii: 1954

Stores in Hawaii: 39*

Headquarters: Walnut Creek, Calif.

Stores nationwide: 521

Annual revenue: $5 billion plus

Founders: Brothers Joe and Tom Long

Source: Longs Drug Stores Corp.

* Not including two under construction
CVS Caremark
Entry to Hawaii: 2000

Locations in Hawaii: 1 (1 more planned)

Headquarters: Woonsocket, R.I.

Retail stores: 6,800*

Annual revenue: $85 billion

Founders: Brothers Stanley and Sidney Goldstein and partner Ralph Hoagland (1963)

Source: CVS Caremark Corp.

* After the acquisition, not including specialty pharmacies
CVS Caremark Corp., the second-largest U.S. drugstore chain, has agreed to acquire Longs Drugs Stores Corp. for $2.9 billion, including debt, to expand further west.
The acquisition includes 521 Longs retail drugstores in Hawaii, California, Nevada and Arizona as well as its Rx America subsidiary, which offers prescription benefits management services to more than 8 million members.
Longs Drugs stores here will keep the name, while stores acquired on the mainland will eventually be converted into CVS Pharmacies.
Longs' tradition and brand recognition in Hawaii date back 54 years.
"We see tremendous value in the brand in the Hawaii market," said Eileen Dunn, a CVS spokeswoman. "We know customers value the Longs name, and we feel this is a great opportunity for us. We're happy we've found a way to have a larger presence in the market."
CVS will also retain Longs' management team and employees in Hawaii, Dunn said. The format of the stores will remain unchanged in the near future.
Longs has about 22,000 employees nationally, while CVS has about 190,000 employees in the U.S. Longs did not say how many employees it had in Hawaii.
Thomas Ryan, CVS Caremark's president and CEO, said during a conference call that the Hawaii market is "kind of a stand-alone market" from a distribution and advertising standpoint, and that no economies of scale were lost from treating it as such.
Ryan added it was more appropriate to retain the Longs Drugs brand in Hawaii because it is a different market that will be handled by the management team here.
"In fact, the Hawaiians feel that Longs is kind of a Hawaii homegrown chain," he said.
Two additional stores were also planned for Hawaii before the acquisition -- one will anchor the new Pearl City Gateway retail center, while a 30,000-square-foot store is also expected to anchor the Kulamalu Town Center in upcountry Maui.
Both projects are still expected to move forward.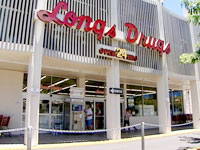 One of the best know chain stores in Hawaii is being sold to a mainland chain.
Longs also has a district office at Sand Island, a distribution center and its own regional director of real estate posted here.
CVS, which is based in Woonsocket, R.I., has annual revenue of about $85 billion, and offers more than 50 CVS CarePlus Pharmacy specialty services as well as the MinuteClinic.
With the Longs acquisition, CVS saw an opportunity to expand its geographic reach into 10 key markets that would otherwise have taken a decade or more.
Longs owns real estate for about 200 store locations, three distribution centers and three office facilities, which CVS has valued at more than $1 billion.
More significantly, Longs is in fast-growing markets that CVS previously had no presence in, such as central and northern California, Nevada and Hawaii.
In 2006, CVS acquired 700 standalone Sav-On and Osco drugstores from Albertsons, expanding its presence in key Midwest markets and Southern California.
Following the Longs acquisition, CVS will operate about 6,800 drugstores in 41 states and the District of Columbia.
CVS said that it plans to expand health and beauty merchandise in the Longs stores, but that it was too early to determine what else it would add in the Hawaii stores.
"I think where we find opportunity to provide additional resources to the Hawaii stores, we will do so," Dunn said. "But we want to remain true to the Longs tradition and operations. We'll use any enhancements at CVS that work, but it's going to be a local management decision."
The news of the acquisition comes not long after CVS Caremark signed a lease for the 4,700-square-foot space formerly belonging to Sunset Grill at Waterfront Plaza, also known as Restaurant Row.
CVS will open a CVS CarePlus Pharmacy, a specialty pharmacy for patients needing complex drug therapies, in downtown Honolulu in the fall. Its strategy is to open locations close to hospitals.
Since 2000, CVS has operated a specialty pharmacy at Pali Palms Plaza on North Kalaheo Avenue in Kailua.


CORRECTION
Tuesday, August 19, 2008
Originally, this article said Longs Drug Stores had 39 stores in Hawaii, including two that were under construction. Longs has 39 stores, not including the two under construction.