ERS posts fiscal-year loss
It is the first for the state's largest pension fund since 2002
The Hawaii Employees' Retirement System pension fund posted its first fiscal-year loss since 2002, citing weaker performance due to the meltdown of the U.S. financial markets.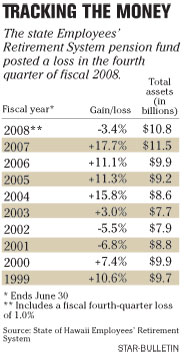 The ERS, which provides retirement, disability and survivor benefits to 106,000 people, recorded its third consecutive quarterly loss, extending its fiscal-year loss to 3.4 percent. The portfolio's last fiscal-year loss was six years ago, when it was down 5.5 percent.
The state's largest pension fund -- at $10.8 billion -- decreased by $150.3 million in the latest quarter, and fell $730.1 million over the past year.
The portfolio, which was down 1 percent, exceeded its benchmark of negative 1.4 percent in the quarter, but trailed the 0.6 percent loss in the median fund of its large peers -- 50 other public pension funds with assets more than $1 billion. For the year, the ERS fell short of its minus 3.1 percent benchmark, but beat its peer median fund, down 4.4 percent.
Similar to other large institutions, the ERS portfolio is tilted toward equities, which for the last year has declined by more than 10 percent, said Neil Rue, managing director of Portland, Ore.-based Pension Consulting Alliance Inc.
"No one produced a positive return over the last year, so it was a very difficult environment -- attributable to the meltdown of the U.S. financial sector, which has had an impact on many economies," he said.
All of the ERS asset classes reported negative returns in the quarter, though domestic equity had the best performance with a loss of 0.1 percent, beating its minus 1.6 percent policy benchmark. The largest loss was in international fixed income, down 6.3 percent, trailing its minus 4.7 percent benchmark.
Meanwhile, international equity fell 1.4 percent (trailing the benchmark of minus 2 percent), domestic fixed income declined 1 percent (matching its negative 1 percent benchmark), while real estate -- down 0.5 percent -- missed its 1.6 percent target. Alternative investments fell 1.3 percent.
However, over the last three to five years the fund has exceeded its benchmark targets.
The portfolio has averaged a 10.1 percent gain over the last five years to beat its 10 percent benchmark, though it still trails the 10.3 percent median of its peers. Over the past three years, the ERS has reported an annualized 8.3 percent gain, topping both its legislative mandate of an 8 percent annual return and peer median fund of 7.4 percent.