Redefining the Row
Cozy up to Bambu's Bar
»
Restaurant Row takes new direction
Imagine sipping mai tais beneath a dark, bamboo awning, seated on Balinese-inspired wicker chairs and watching sports on high-definition TVs -- in the middle of a sprawling office complex.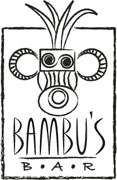 Welcome to Bambu's Bar, the reincarnation of the former Row Bar, now owned by partners Al and Jane Sieverts, Alan Beall and Dave Stewart.
The partners invested close to a quarter of a million dollars into Bambu's Bar (Bambu being their mascot monkey), with the hopes that it will reinvigorate their business.
"I think it was necessary to rebuild ourselves," said Al Sieverts. "The bar was tired."
Row Bar, an original tenant dating back 20 years, was at one time the hottest bar in town, said Sieverts, and has the potential to be so again.
Bambu's Bar will be open from 6:30 a.m. (instead of noon) and until 2 a.m.
In the mornings, Bambu's will offer Kona Joe coffee, along with pastries, salads and sandwiches. The coffee choices will be upscale, with competitive prices, and were selected with the help of coffee consultant Jason Panui.
As part of the lease agreement, Wizard's Coffee, a coffee kiosk at Restaurant Row, closed last Thursday.
It was after negotiating a new lease with the Shidler Group, owners of Waterfront Plaza, that the partners decided to move forward with renovations.
"As soon as we got a new lease, we put money into it," said Sieverts.
The inspiration for the new Bambu's Bar came from pictures of a bar in Bali. Bambu's is part European-style cafe, with outdoor seating and a tropical decor.
A mixologist will be helping Bambu's come up with some new drinks that have yet to be announced, along with Italian-inspired pupus. Pau hana live music still will take place every Friday, starting at 5:30 p.m., offering a mix of Hawaiian and jazz.
Bambu's Bar had a soft opening last week, and will hold a more formal grand opening in September. The bar was closed for a month in July for the renovations.