---
HAWAII
Hawaii gas prices rise again
Yesterday's average price for a gallon of unleaded gas in Honolulu remained stable at $4.37, and up $1.20 from last year. In Hilo, the average price was $4.48 a gallon, one cent under last month, and $1.12 higher than last year. The average price in Wailuku was $4.71 a gallon, three cents more than last month, and $1.12 higher than last year.
"Prices remain stubbornly high here but are declining slightly for the second week in some areas," said AAA Hawaii Regional Manager Richard Velazquez.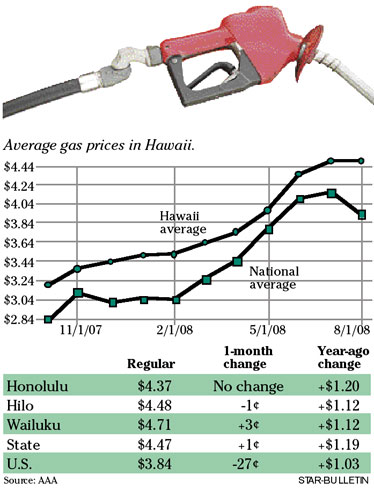 Census 2010 hiring in Hawaii
The Los Angeles regional census center is recruiting managers for its early local census office that will open in Honolulu this fall. The short-term positions will pay $19.25 to $29 an hour. Testing will be next Thursday and Aug. 28 at 10 a.m. Call (877) 232-3385.
Tesoro rating outlook negative
Fitch Ratings
has affirmed
Tesoro Corp.
's issuer default rating and senior unsecured debt rating at BB+, and revised its rating outlook to negative. Tesoro owns the largest of Hawaii's two refineries.
Tesoro's ratings are supported by the scale and diversification benefits of its seven refineries at 658,000 barrels per day of crude capacity; its solid long-term competitive position in the supply constrained West Coast market; and recent declines in crude oil and gasoline prices.
Offsetting factors include: Eroding refining fundamentals and weak cash generation in the first half of the year and Tesoro's exposure to the California gasoline market, which continues to underperform national averages.
Hawaiian load factor drops
Continuing a downward trend,
Hawaiian Airlines
' load factor dropped to 78.7 percent in July, down from 87.4 percent the same month a year ago.
Hawaiian Airlines' passenger traffic, however, increased to 728,718 in July this year, 11.1 percent higher than the same time last year, while recording 675.4 million revenue passenger miles, or one paying passenger transported one mile, down 7.3 percent from last year.
Available seat miles, or one seat transported one mile, totaled 858.6 million, up 3 percent from last year.
The growth in passengers is mainly the result of Hawaiian's expansion of interisland operations, the carrier said yesterday. The lower average load factor, meanwhile, reflects a lower transpacific factor as Hawaiian raised fares to offset higher fuel costs.
Zippy's opens 25th location
FCH Enterprises, Inc.
said yesterday that Zippy's Kahului, the 25th location, will open Aug. 18 at 10:30 a.m. It will be open 24 hours a day.
At 8,629 square feet, the building has the largest restaurant seating capacity of 242. The location will include a fast-food counter, dine-in restaurant and a Napoleon's Bakery retail outlet.
NATION
Mesa sues Delta over jet engines
PHOENIX »
Mesa Air Group Inc.
, parent of interisland carrier go!, sued
Delta Air Lines Inc.
claiming the larger commercial flyer is holding seven jet engines worth $25 million hostage until Mesa agrees to settle a financial dispute.
Without the engines, Mesa would be forced to ground some flights if one of its 180 planes needs unscheduled maintenance. That, in turn, could jeopardize Mesa's contracts to act as a regional carrier for commercial airlines, including Delta, Mesa said in court papers filed Wednesday in U.S. District Court in Phoenix.
---
BUSINESS PULSE