| | |
| --- | --- |
| | Newswatch |
---
No new trial for visitor's killer
A state judge denied yesterday a request from Less Schnabel Jr., convicted last month of manslaughter, for acquittal or for a new trial.
An Oahu jury found Schnabel, 23, guilty of manslaughter for delivering a single punch that killed Christopher Reuther, 34, in April 2007 at Nanakuli Beach Park. Reuther was visiting the island to consider attending law school here.
Schnabel's lawyer, Debra Loy, said there was no evidence presented in trial that Schnabel knew his actions would cause Reuther's death and that the jurors were unfairly influenced by the prosecutor, who told them to go with their gut feeling and use their common sense.
According to state law, a person commits manslaughter by recklessly causing the death of another person. A person acts recklessly when he consciously disregards a substantial and unjustifiable risk that his conduct will cause such a result.
Circuit Judge Michael Town denied Schnabel's request for acquittal because, he said, judges should not second-guess juries. He said he denied Schnabel's request for a new trial because he said the jurors were properly instructed to decide the case on the evidence without pity, passion or prejudice.
Town will sentence Schnabel for manslaughter next month.
Dental care coming to kids' center
HILO » The private, nonprofit Keiki Health Center in Kealakekua plans to begin site renovations soon that will allow installation of children's dentistry facilities, the agency announced.
The renovation and installation of equipment, costing $600,000, is expected to be completed in November, and the agency expects to be providing services for up to 1,500 children by the end of 2009, they said.
Seven philanthropic organizations are providing the money.
A major portion of the children to be served are expected to have no insurance and to come from low-income families, the agency said.
The children's center opened in May with medical and behavioral services. It is the second facility operated by the West Hawaii Community Health Center, which opened in 2005 serving an 80-mile stretch of the West Hawaii coast.
In 2007 the center served 4,600 patients, of whom 70 percent were low-income and uninsured.
There are few pediatricians in West Hawaii and even fewer who accept Medicaid patients because of low reimbursement rates, said spokeswoman Gayle Hunt. The need for children's dental services is also "huge," she said.
Bainum mulls claim against clerk
An attorney for City Council candidate Duke Bainum said he is studying whether to further pursue a claim that the City Clerk's Office acted improperly in its handling of Kirk Caldwell's election filing.
City Clerk Denise De Costa already has disqualified Caldwell from the race to replace Ann Kobayashi for her District 5 seat and denied any wrongdoing, leaving Bainum unopposed.
"We deny any allegation that any employee of this office engaged in collusive activity with regard to the filing of nomination papers by Mr. Caldwell," De Costa said in a letter to Amy Mizuno, a Manoa resident who had challenged Caldwell's candidacy.
Mizuno, assisted by Bainum attorney Todd Eddins, filed the second challenge to Caldwell's candidacy. Eddins said this week he is reviewing the issue with Mizuno to see whether she wants to further pursue the matter.
"The city clerk punted on the more serious election law violation," Eddins said Wednesday. "That is, that city employees and city resources assisted one candidate over another."
The issue arose on July 22, the deadline date for candidates to file to run for office.
After Caldwell's nomination papers were submitted just before the 4:30 p.m. deadline, it was determined he was one signature short of the 15 needed. A Manoa resident who works in the clerk's office was allowed to sign as the 15th name.
Also at issue was whether Caldwell, the state House representative for the Manoa district, withdrew from his state race in time to run for the Council seat.
De Costa ruled that Caldwell did not file the necessary paperwork to withdraw from his House race. She said that ruling made the issue of the signature moot.
| | |
| --- | --- |
| | Police, Fire, Courts |
---
TOPSY-TURVY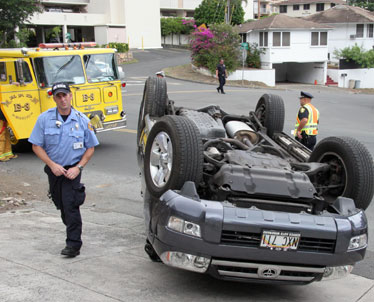 CENTRAL OAHU
Suspect charged in Kunia shooting
Authorities charged a 30-year-old man yesterday with attempted murder for alleged gunplay as part of a love triangle.
Bronson Gouveia allegedly fired shots at his girlfriend's former boyfriend Monday on Kalae Street in Kunia. He was charged with second-degree attempted murder and various weapons and drug charges. He is being held in lieu of $250,000 bail.
According to a police affidavit, Gouveia's girlfriend was standing on the street talking to her ex-boyfriend when Gouveia approached on foot and allegedly challenged him to a fight. Gouveia indicated that the ex-boyfriend had sent a text message to the woman saying he wanted to fight him.
The ex-boyfriend, who was seated in his truck, told Gouveia he did not want to fight, and started up his truck and began pulling away. Gouveia allegedly fired at his rear window, shattering the glass.
Other witnesses reported seeing Gouveia take out a handgun and fire at the truck, and the ex-boyfriend said he heard six shots. Police tracked down Gouveia and his girlfriend in a residential area in Wahiawa and arrested him Wednesday morning.
HONOLULU
Police seek man in sexual assault
Police are looking for a man who allegedly sexually assaulted a 31-year-old woman near the University of Hawaii at Manoa late yesterday morning.
Police said the man, who appeared to be in his 20s and is unknown to the woman, allegedly approached the woman on the street, knocked her to the ground and touched her inappropriately.
The reported sexual assault occurred at about 11:45 a.m. yesterday near the UH-Manoa campus.