Cigarette starts blaze on top floor of high-rise
Some refused to leave the Waikiki building during the fire, which did $30,000 damage
A lit cigarette butt caused a condominium fire at a Waikiki high-rise yesterday.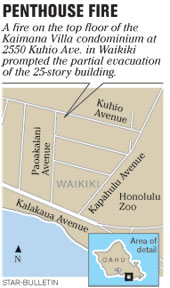 About 40 firefighters responded to a blaze on the top floor of Kaimana Villa, 2550 Kuhio Ave. Firefighters arrived at unit 2501 at 12:08 p.m. and contained the fire at 12:20 p.m.
Damage to the unit and its contents was estimated at $30,000.
Capt. Earl Kealoha, spokesman of the Honolulu Fire Department, said a male resident apparently discarded a cigarette butt into a small plastic receptacle on the balcony before he left his condo about an hour and a half before the fire. The cigarette butt wasn't fully extinguished and began to smolder, igniting other material within the receptacle and the receptacle itself.
Firefighters arrived within minutes and prevented the fire from roaring throughout the entire unit. Nearby units and buildings were not affected by the blaze.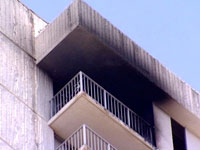 The blaze started on the 25th floor of the Kaimana Villa building on Kuhio Avenue just after noon Tuesday.
The American Red Cross Hawaii Chapter is assisting with living arrangements for the resident and another occupant.
As firefighters responded, some residents of the high-rise were slow to evacuate and others declined to do so.
"People were still watering their plants and cruising," said resident Jessica Arakawa, 24, who walked down more than a dozen flights of stairs to evacuate the building after she was alerted by a fire alarm.
Arakawa, who lives on the 19th floor, saw black soot and smoke billowing from the balcony six floors above her before she left the building. She said she saw firefighters containing the fire to the affected unit.
Honolulu fire officials advised residents to take fire alarms seriously and evacuate. Officials also advised residents to properly extinguish cigarettes.
The residential building was built in 1973, two years before a city ordinance was passed to require all new residential high-rises to include a sprinkler system. The measure exempted existing high-rises built before 1975.