Isle campuses see enrollment surge
Some say the poor economy is a factor in more people taking more college courses
STORY SUMMARY »
After standing in line to register at Leeward Community College, Jarrod Williams, 25, said he's tired of working as a security guard and is going back to school to become a teacher.
"I cannot lay about the house," Williams said last week. "I need to go to school."
Three weeks before classes begin, many of the 10 campuses in the University of Hawaii system are seeing an enrollment surge that officials say is both a reflection of the slowing economy and better marketing efforts to attract students, especially in Leeward Oahu and the Big Island.
Enrollment at UH-West Oahu was up 35.6 percent compared with the same time last year and Leeward Community College and Hawaii Community College enrollment was up nearly 18 percent as of last month.
"Whenever the economy is on a downturn, when people can't get jobs, that's when our enrollment tends to go up," said Barbara Arthurs, the dean of student services at Hawaii Community College on the Big Island.
---
FULL STORY »
The slowing economy appears to be a factor in surging enrollment at several University of Hawaii campuses, officials said.
Enrollment at Leeward Community College and Hawaii Community College was up nearly 18 percent last month compared with the same time last year.
UH-West Oahu's enrollment rose nearly 36 percent and UH-Hilo was also up by about 16 percent.
UH officials credit better marketing and outreach efforts for part of the increase.
But they also note that the economy also influences enrollment.
"When the economy is going gangbusters, people aren't going to school," said UH-West Oahu Chancellor Gene Awakuni. Enrollment tends to rise, he added, "when the economy turns sour and they're trying to enter the work force, there are no jobs or they find they need more training to get the jobs they want."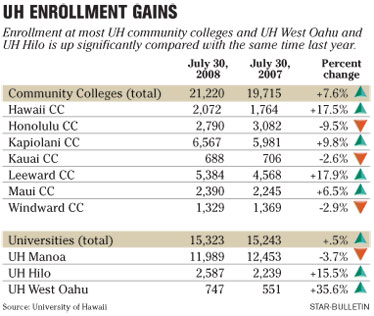 Getting a better-paying job is the main reason Trisha Moses, 26, is going back to school at Leeward.
Moses finished her certificate to become a dental assistant two years ago, but never finished her degree to become a dental hygienist, a position she said pays significantly more money.
"I have three kids. Gas prices are going up. Their education is costing more," Moses said.
Taking classes online will enable her to keep working and go to school at the same time, she said.
Leeward counselor Nancy Buchanan said her office is much busier than last year, helping students enroll and get financial aid.
"Classes are filling, and people have to wait longer for appointments," Buchanan said.
Applications are coming not only from high school seniors but also laid-off workers, she said.
"Aloha (Airlines' shutdown) has something to do with it (rising enrollment)," she said.
Leeward is adding afternoon classes as the morning time periods fill up, said Chancellor Manuel Cabral.
Barbara Arthurs, dean of student services at Hawaii Community College, said classes there are also filling up and the college is looking at adding evening and perhaps even weekend classes that would also serve students who work during the week.
John Morton, the UH vice president for community colleges, said the colleges are able to add classes to meet the rising enrollment because of a $2.3 million appropriation from this year's Legislature.
"What we anticipated was the state needed more people getting into higher education," Morton said. "We were going to have to go out and recruit those students and then we had to have the dollars to make sure there were classes for them if we were successful."
The Legislature also gave money for $500 scholarships for workers who lost their jobs in mass layoffs. The university has been working with the Department of Labor to let workers know what their options are, Morton said.
He added that enrollment started rising in the spring and part of the reason for the increase is those students are staying in school and returning for the fall semester.
The lower cost of tuition compared with the flagship UH-Manoa campus and the higher cost of gas may also be a factor in rising enrollment at UH-West Oahu, said Awakuni, who said the number of freshmen entering UH-West Oahu doubled from last year.
Awakuni cited a top Nanakuli High School student who chose to stay closer to home.
"My understanding is, going from Nanakuli to Manoa would have cost him a tremendous amount of money in travel alone. It made more sense to him to be closer to family," Awakuni said. "That's one of the things we said was going to happen. ... If you build it (UH-West Oahu) in someone's back yard, they're more likely to take advantage."