Isle Guard unit ready for more 'tough going'
Deployment: Hawaii's Citizen soldiers going to Kuwait
Big Island contractor Aaron Okinaga and Honolulu social worker Edward Payne are among more than 1,000 Hawaii Army National Guard citizen soldiers preparing for their second tour to the Middle East.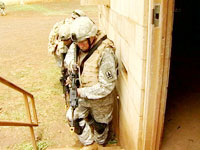 Twelve hundred soldiers with the Hawaii Army National Guard and 500 Hawaii Army Reservists are deploying to Kuwait and Iraq at the end of the month.
The 52-year-old Sgt. Payne and 53-year-old Sgt. 1st Class Okinaga are the oldest members of the 29th Infantry Brigade Combat Team's 1st Squadron, 299th Cavalry Regiment. Okinaga, a 1974 graduate of the Big Island's Konawaena High School, has been a member of the Hawaii Army Guard for 33 years. Payne has nearly 19 years in uniform.
Of the more than 1,200 citizen soldiers from Hawaii in the 29th Infantry Brigade Combat Team being sent to Kuwait in October, 84 percent of them have already served a combat tour in Iraq or Afghanistan, according to Maj. Gen. Bob Lee, head of the Hawaii Army and Air National Guard.
There are an additional 500 soldiers belonging to the Army Reserve's 100th Battalion/442 Infantry, commanded by Lt. Col. Mike Peeters, who will join the 29th Brigade for the second tour.
In 2005, the last time the 29th Brigade was called to active duty, 2,300 soldiers were sent to Iraq.
The 29th Brigade is currently at Schofield Barracks completing pre-mission deployment training before departing Aug. 19 for additional training at Fort Hood, a Texas Army post, named after Confederate Gen. John Bell Hood, located between Austin and Waco.
A farewell ceremony is planned at Aloha Stadium for 11 a.m. Aug. 16, just three days before the brigade receives its mobilization orders and flies to Fort Hood for its last phase of training and testing. The unit will leave for Kuwait from Fort Hood in October.
The 29th Brigade will be augmented with an additional 600 soldiers from the 45th Fires Brigade -- an artillery unit belonging to the Oklahoma Army National Guard.
Capt. Jon Ishikawa, who commands the squadron's B Troop, served in Iraq in 2003 with the 1st Stryker Brigade Combat Team from Fort Lewis -- which was the first Army unit to take the eight-wheeled, 19-ton combat vehicle into a hostile zone.
He said his Army National Guard unit will be stationed south of Kuwait City at Camp Arifjan, where the Army component of U.S. Central Command is located, and will perform convoy escort missions lasting from one to two weeks north into Iraq. Also tasked with the same security force mission will be the 100th Battalion.
The other units of the 29th Brigade will provide a security force at several installations and be the "camp command cell," performing administrative duties for installations around Kuwait.
Command Sgt. Maj. Craig Ynigues, a 30-year veteran of the Hawaii Army Guard, said, "It's tough going down range again. First time, it was 18 months (on active duty). Now it's for 12 months. It's a little better but it's still hard."
"Coming from your civilian job, you have two lives," added Ynigues, who works as a night waiter at the Kona Village Resort. "The separation from your family is hard."
Okinaga, whom Ynigues considers his "mentor," said he was not surprised that the 29th Brigade was called to active duty last year after completing its first wartime assignment in March 2006. "I kind of expected it. They gave us a warning even before we left."
Payne, a social worker with state Child Protective Services, said although he did not expect to be recalled so soon, he is ready for the Kuwait mission.
Ishikawa, a 1995 Kamehameha School graduate, said Hawaii's soldiers will receive a four-day pass after completing their training at Fort Hood and then leave for Kuwait.