---
ENTERTAINMENT
Anthology uses photos and prose to evoke Hawaii's sense of place
Don't be thrown off by the look of the latest volume of Kapiolani Community College's "Ka Nani" literary anthology. Yes, it appears to be a calendar, but the magazine's editorial team, led by Lee "Da Pidgin Guerilla" Tonouchi, is just appropriating the format for its current collection of thought-provoking prose and pictures.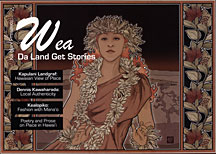 "Ka Nani's" theme this time 'round is the concept of place in Hawaii. "Wea: Da Land Get Stories" leads and ends with interviews, with photographer Kapulani Landgraf (including samples of her black-and-white landscape work), and writer, essayist and KCC faculty member Dennis Kawaharada.
Along with the usual selection of student poetry and art, highlights include an article on the local clothing line Kealopiko, and Michael Moore's short story on the clash of traditional Hawaiian life on Kauai with the presence of the Pacific Missile Range Facility in Kekaha.
Tonouchi and some of the student contributors will read from the publication, 7 to 9 p.m. Thursday at Native Books in Ward Warehouse. Call 596-8885.
2 famed authors to speak on Maui
Poet W.S. Merwin and author Maxine Hong Kingston will speak Friday at the Iao Theater in Wailuku, Maui. They'll be hosted by moderator Puanani Burgess in a "conversation" to begin at 7 p.m.
Merwin, who was awarded the Pulitzer Prize in 1971 for "The Carrier of Ladders," was the nation's poet laureate in 1999. He is the author of more than 30 books of poems, prose and translations, including "Migration: New and Selected Poems," which won the National Book Award for poetry in 2005. He lives in Haiku, Maui, but his public appearances are rare.
Kingston, another National Book Award winner, for "China Men" in 1981, is also the author of "The Woman Warrior" and "Hawai'i One Summer." A former Honolulu resident, she lives in the San Francisco Bay Area.
Their appearance is organized by Ala Kukui (Pathway of Illumination), a retreat in Hana.
Admission is a $15 suggested donation; $12 seniors and students. Call 875-7995 or visit alakukui.com.
Rising Melody moves to Eastside
The Rising Melody Songwriter Showcase is moving to Eastside Bar & Grill from its previous location at thirtyninehotel.
Hosted by Bret and Jaena Shimabuku, Rising Melody will be held on the first and third Tuesdays of every month.
The show kicks off in its new location at 9 tonight with Sebastian Hughes, Monkeypod, Mr. Nick, Mike Ulep, Floyd Edward Harrison and more.
Call 342-8787 or e-mail therisingmelody@hotmail.com.
'Famous' Amos hosts storytellings
Wally Amos, founder of Famous Amos Chocolate Chip Cookies, hosts storytelling sessions at the Sheraton Waikiki over three Tuesdays, beginning today.
His free sessions, sponsored by the Read it Loud foundation and the Library of Congress, will be held at 2 p.m. today, Aug. 12 and 19, in the lobby, cookies included. Parking is validated.



CORRECTION
Thursday, August 7, 2008
Poet W.S. Merwin and author Maxine Hong Kingston will speak at 7 p.m. tomorrow at the Iao Theater in Wailuku, Maui. An in this item said the theater was in Hana. Call (808) 875-7995.