HIGH SCHOOLS: CLASSIFICATION
Is classification leaving small schools behind?
Some schools with big enrollments are walking away with Division II state championships, leading some to question the purpose of classification at all
From blogs to talk shows, Internet forums to newspaper stories, classification in high school sports has been a hot-button issue the past nine years.
It began with football, when Division II was added to the state championship tournament in 2003. Over the years, nearly every team sport has been brought into the D-II fold by the Hawaii High School Athletic Association. Though large and small schools have faced more challenges -- financially, speaking -- D-II has been a godsend for many student-athletes and communities.
'Iolani, the source of generations of outstanding student-athletes and coaches, long struggled to win an Interscholastic League of Honolulu football crown against larger private schools. The Raiders found their niche when the Hawaii High School Athletic Association started a D-II championship in 2003, winning two titles in the past three years.
Prior to '03, coach Wendell Look supported the notion of 'Iolani entering D-II for football. He feels the same way today.
"It's given a lot of teams like us who have limited numbers and are not as physically as big as other schools a chance to compete," Look said. "It gives your kids more incentive and motivation to work hard and have something to strive for. We still play Division I schools in our league and sometimes we take our lumps, too. But it's a great idea. Not only in football, but look at the other schools that have benefited from it in other sports."
When it began, HHSAA chief Keith Amemiya put his money on the table. With a donation, he kick-started the D-II football tourney.
"People were skeptical, if anything, about the financial part, but Keith saying he'd put up the first $25,000 of his own money to make it work, that took away that question right there, and it's been a huge success," Look said.
"It gave our teams an opportunity to compete against schools with comparable enrollments. It's been really good for us," Hawaii Baptist athletic director Deren Oshiro said. HBA's girls volleyball team, in particular, has been at an elite level for many seasons.
Championships in different sports are open now to small communities like Pahoa, which qualified for the boys volleyball D-II state tourney last spring. However, that same Daggers team almost didn't make the trip to Oahu because of severe financial constraints -- even though the team held fundraisers earlier in the school year.
The economic crunch is filtering into all aspects of life in the islands. That makes the job tougher for coaches, athletic directors, league executives and Amemiya. So far, Amemiya has rounded up an unprecedented list of corporate sponsors to keep the HHSAA, which has been independent of state funding during his reign, healthy and vigorous.
The spirit of Division II, however, has been questioned. Complaints by some fans statewide vary, but the biggest question has been consistent: How does Division II -- which is based on enrollment for the rest of the nation -- allow some of Hawaii's biggest schools to participate?
Only New Jersey, among the other 49 states, allows for a hybrid solution of enrollment figures and power rating (win-loss records). For Hawaii, which is geographically different from almost every other state, the answers have been productive for the most part.
However, as long as the ILH supports the OIA's stance -- using a power rating (win-loss record) as criteria rather than enrollment -- the neighbor-island leagues don't have enough votes to change the policy. Does it make sense for a small private school in the ILH to support the OIA? In some ways, it does.
In sports like soccer and volleyball, athletes excel in regional clubs at a young age. By the time they're in high school, many are enrolled at a private school. Sometimes it's a juggernaut like Punahou. Other times, it's a tiny, overachieving volleyball program like Hawaii Baptist.
Big or small, the private-school teams have fundamentally-sound players from the start. That's not the case at many public schools, especially since most areas of Oahu don't have clubs nor families that can afford club play. A school like Waianae or Farrington may have close to 3,000 students, but paying the $300 or $400 annual fee to play club soccer, for example, is a hardship for many families.
For the HHSAA, a neutral take on the big-school-in-a-little-pond situation is natural. Most state tournaments are held on Oahu, and when the OIA's large Division II teams participate, it means more gate and more revenue. An enrollment-based criteria would push the big schools out, and the HHSAA is in no position to turn away much-needed revenue.
United we stand, divided ...
In June, Gary Oertel took a stand. The Christian Liberty athletic director submitted a proposal for a uniform, statewide criteria to separate D-I from D-II. It was, by all accounts from ADs statewide, the best proposal they'd seen.
Unfortunately, for Oertel, the proposal didn't make it out of committee at the annual Hawaii Interscholastic Athletic Directors Association conference in early June. The stumbling block? A multiplier of 2.0 for private-school enrollments. On the mainland, the typical multiplier is 1.5.
Oertel was away from Hawaii because of a family commitment during HIADA, and the proposal didn't have an amendment -- which is usually the case when there is an initial barrier to approval.
"If they want 1.5, I'd say sure, just to get anything in place," Oertel said. "One-point five is very negotiable."
Oertel's background as a coach, plus his understanding of what many small schools are about -- Christian Liberty, a Hilo school, has 102 high-school students -- makes classification a hands-on interest.
"D-II has been great for us. We've gone to state tournaments where in the past we probably wouldn't have," he said. "But it could be better."
Had the proposal reached the general assembly for passage or rejection, there was still no guarantee of approval. After all, the two biggest leagues in the state, the Oahu Interscholastic Association and the Interscholastic League of Honolulu, were largely against a statewide criteria.
With leagues voting in blocs, the OIA and ILH easily outnumber the neighbor-island leagues. The cross-section response from OIA administrators is about autonomy.
"The feeling among the leagues is every league is so unique, to let the leagues determine Division I and Division II," OIA executive director Dwight Toyama said. "We're so different from the mainland because of geographical layout."
Oertel's proposal, though, would have allowed at least 10 OIA entries into Division II state tournaments based on a scale. "I'm not sure if they really read the proposal thoroughly," he said.
It is an intriguing reflection on politics and agendas. The Kauai Interscholastic Federation went exclusively to Division II in all sports a few years ago. Meanwhile, the BIIF, ILH and Maui Interscholastic League began to incorporate enrollment as a primary criteria within the past two years.
Only the OIA remains locked in a power-rating formula. The OIA, no stranger to complex, creative solutions -- its Red, White and Blue conferences created competitive balance on the football field during the 1990s -- has never needed Division II.
In fact, a large majority of OIA schools has enrollments that meet and exceed the average enrollment for schools across the state. If a number, say 1,200 students, was the average cutoff point between D-I and D-II, less than a handful of the 26 OIA schools would benefit.
"That would adversely hurt the OIA," Amemiya said. "Most of our schools understand that Hawaii has unique circumstances that make it difficult to classify by enrollment."
In actuality, the KIF, MIL, BIIF and ILH already support enrollment-based criteria through their actions. The ILH, in particular, has far more small schools than large among its 29 members.
In fact, ILH president Richard Schaffer has asked, more than once, why the state can't have a uniform criteria. Schaffer, who is principal at Mid-Pacific Institute, has been president of the league for only a year.
Interestingly, ILH executive director Don "Spud" Botelho, a veteran of battles on the football field and in the boardrooms of the HHSAA, has been very supportive of the OIA when it comes to bottom-line votes at the executive level. Though the ILH and OIA have been arch rivals since public schools pulled out of the ILH in 1970, Botelho has usually walked in stride with the OIA when it comes to key issues and votes.
Toyama believes the time could come when changes will be made again.
"No one's come up with something that's palatable to all. I'm certainly not saying no to changing classification. Any league can bring up a proposal and we can go from there," he said.
Fiscally speaking
Go back several years, back to a time when the Prep Bowl was a big financial resource for the OIA and ILH, and it's easy to see why the OIA has no reason to embrace D-II.
The financial pie from the Prep Bowl, the unofficial state championship game in football, was sliced only among the ILH and OIA.
Division II brought an official state tourney, split the pie into many more slices and reduced a key revenue stream for financially strapped public-school athletic programs.
Toyama never supported the end of the Prep Bowl -- understandably so.
"It was just one weekend, and just for our league, we used to bring in $100,000. Now we're lucky if we get $2,000 per school. We're lucky if we get $45,000 from HHSAA," Toyama noted.
"Everybody wanted a state tournament, we went to the HHSAA, we voted and we lost. That's a big impact. Over nine years, that's big money. That's the past. It's gone already."
Today, the state football tournament is healthy enough to help fund other sports. Even the D-II state tourney, which is played both on Oahu and the neighbor islands, has been productive.
"Generally speaking, the Division II state tournaments break even and, in some cases, make a profit. Every year is different, (but) D-II football can generate as much as $30,000 in profit," Amemiya said.
That profit helps subsidize travel costs for other sports like softball and girls basketball, Amemiya noted.
"Football games on the neighbor islands tend to draw very good crowds, but any time a team has to travel interisland to play a game, (that) severely draws into gate receipts," he said.
Division II is here to stay, Amemiya said, despite a slumping economy and the ripple effect of higher gas prices -- and air fares.
Toyama thinks increased transportation costs could lead to smaller state-tourney sizes. He also envisions Division III and a scope that would have eight teams in each state tourney division.
"Not speaking for the OIA, given a sport like football, we're actually a three-tiered league. You have your Waianae, Kahuku who are always going to be Division I. Then Waialua, Kalaheo, Moanalua, they're usually Division II. Then you have Kaimuki, Roosevelt, Campbell are bubble teams," he said.
"At the state level, we have truly D-III teams, they're so small. True classification should have three levels. You have Laupahoehoe, Anuenue, some really small schools, but that's me personally. My league doesn't see it that way."
Toyama's notion isn't isolated. Kamehameha-Hawaii athletic director Bob Wagner has supported the concept of D-III state championships for a few years.
Big fish, small bowl
Today, D-II is a boon for smaller schools. The dreams of coaches and players are more alive now. When Farrington and Aiea met for the boys basketball D-II state championship, the Governors' thrilling 70-68 win at Blaisdell Arena was met with mixed reaction.
On one hand, it was Farrington's first state championship in boys hoops in a generation. Coach Allan Silva's five-year plan to revive a once-floundering program materialized in just four seasons. The community of Kalihi was ecstatic, and Blaisdell was packed with fans from both schools -- a big plus for gate revenue.
But critics pointed to Farrington's swelling population -- enrollment is nearly 2,700 -- and asked aloud, how does one of the state's biggest schools play for a small-school crown?
Even Aiea's proud players had always wanted to be in Division I. During a perfect OIA White regular season (16-0), Na Alii players lamented their lack of choice regarding classification. Aiea, which has nearly 1,200 students, plays in Division I for several other sports.
Maybe the bigger question is this: If the players know they belong in a higher division, why don't administrators follow suit?
With a common, statewide criteria, both Farrington and Aiea would have played boys basketball at the D-I level. It was Kohala and Hawaii Baptist that were truly small schools that reached the semifinals.
"For us, the past year really, for schools like us with 420 kids, our boys basketball team had a terrific season and made it to the semifinals," Oshiro said of HBA's hoopsters.
"Farrington and Aiea made it to the finals and some people said that wasn't fair, but for our players and coaches and families, they were just happy to be there and have the opportunity to compete. The general public has learned so much more about our school though we haven't done anything differently. It's pretty cool."
Byproducts of classification
For every Farrington that wins a D-II crown, there are smaller schools that bring home the HHSAA championship trophy. Hawaii Baptist has won the last two state titles in D-II. HBA is among the classic gems, a small but dedicated program that competed well with the best girls volleyball teams of the powerful ILH.
For many years, HBA was forced to play in D-I of the ILH even though it has a small enrollment. The quality of the Eagles' program -- there are a handful of graduates now playing at the college level -- was a double-edged sword. Before D-II, for a string of three seasons, the Eagles came up just short of a state-tournament berth. In the past two years, HBA was permitted to play in D-II by the ILH. To no surprise, the Eagles have ruled the roost at that level.
Despite the inequity of previous years, HBA is content with the past. In fact, HBA athletic director Deren Oshiro is among those against a uniform criteria for all leagues. The ILH went to an enrollment-based criteria starting last year, leaving the OIA as the lone league statewide the negate enrollment entirely.
"The OIA's criteria is based on performance and it's understandable. They're a large-school league and they want representation (in Division II)," Oshiro said. "There were years (prior to D-II) where we were among the top three in the ILH, but we couldn't scratch out the second (state) berth," he said.
There's at least one sensible reason why the HHSAA does not favor a statewide criteria for classification. Take the Aiea-Farrington boys basketball game. An estimate of an additional 1,000 to 2,000 fans were at Blaisdell Arena not just for the Division I title game, but to see Aiea and Farrington play. A statewide enrollment criteria would eliminate most OIA schools from D-II play. Instead of Aiea and Farrington, the D-II finals might have paired Hawaii Baptist and Kohala. Even smaller schools like Maryknoll, which had been required to play in D-I by the ILH, would have been in D-II.
In the ILH, where small schools are the majority, D-II is not a true option for all sports. Small schools can only pick one sport to play D-II in. The rest of their teams are required to "play up", as in play up in Division I against behemoths like Punahou, which won 16 state championships this year.
Yet, without D-II, the Pahoas and Hanas of the world wouldn't visit the state tourney often. Two years ago, before there was a D-II state tourney in boys volleyball, a sterling Hana team dominated the MIL. The Dragons won their opening-round game, but fell to eventual champion Punahou in the quarterfinals.
That same team would probably have won a D-II state tourney, but there were no complaints from Hana about the opportunity to go up against Punahou in a David-vs.-Goliath showdown.
In states like Kentucky, where there is no classification for boys basketball, dreams of the little fish eating the big fish are alive and well. For the most part, however, coaches and ADs are content to put their efforts -- including fundraising -- into a more equitable, winnable and fairer situation, thanks to Division II.
2007-08 Division II State Champions
The schools that won HHSAA Division II state championships this past academic year and their official enrollments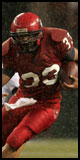 FOOTBALL
'Iolani
Enrollment: 930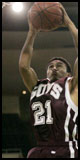 BOYS BASKETBALL
Farrington
Enrollment: 2,530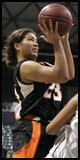 GIRLS BASKETBALL
Campbell
Enrollment: 2,491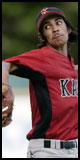 BASEBALL
Kauai
Enrollment: 1,271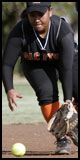 SOFTBALL
Pac-Five
Enrollment: 936*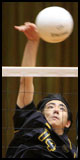 BOYS VOLLEYBALL
Hawaii Baptist Academy
Enrollment: 434
GIRLS VOLLEYBALL
Hawaii Baptist Academy
Enrollment: 434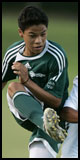 BOYS SOCCER
Mid-Pacific Institute
Enrollment: 839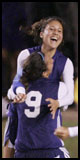 GIRLS SOCCER
Kamehameha-Hawaii
Enrollment: 576
Notes:
Public school enrollments taken from state Department of Education records; private school enrollments supplied by Hawaii Council of Private Schools. * -- Pac-Five enrollment includes all schools represented on championship team.
Photos: Star-Bulletin Files / November 2007-May 2008