Kaneohe ministry leader is indicted in sex assault
Commune's leader accused of sex assaults
STORY SUMMARY »
A minister who leads a Kaneohe commune is in jail on $2 million bail, accused of multiple sexual assaults against one of his young female followers.
City prosecutors allege that Manuel Guillermo Taboada, 56, also known as Memo Taboada, first assaulted the girl when she was 12 years old and continued the attacks over eight years.
He was indicted yesterday on four counts of sexual assault in the first degree and four counts of sexual assault in the second degree.
Prosecutors say Taboada has a similar Christian ministry in Oregon, where similar allegations are being investigated by authorities there.
---
FULL STORY »
The leader of a religious ministry in Kaneohe is accused of sexually assaulting one of his followers over an eight-year period starting when the girl was 12 years old.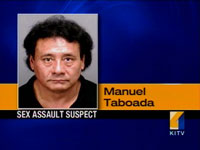 Manual Guillermo Taboada was the spiritual leader of a group of families who shared a large home in Kaneohe and prosecutors say he abused a girl from age 12 until age 20.
An Oahu grand jury returned an indictment yesterday charging Manuel Guillermo Taboada, 56, also known as Memo Taboada, with four counts of first-degree sexual assault and four counts of second-degree sexual assault. The crimes charged in the indictment allegedly occurred from March 1999 to April 2007.
Taboada remains in custody unable to post $2 million bail.
The sexual assaults allegedly occurred in the ministry's van and at the ministry's compound in Kaneohe where the girl's family and other families live and work together in a communal situation, said Vickie Kapp, deputy city prosecutor.
"The defendant moved the victim into his room with his family to groom her into a leadership position, taking her from her family's room, and moved her into another house," she said.
Taboada told the girl that if she told anyone about the assaults, the ministry would fall apart and the children of the other families would be taken away, according to Kapp.
"There were similar allegations against the defendant in his ministry that he formed in Portland, Ore., and a similar investigation is being conducted in Oregon at this time by authorities," she said.
Police arrested Taboada at Honolulu Airport on Monday when he returned to Hawaii from a mainland trip.
The police arrest log shows Taboada lived at 45-087 Waikalua Road. A woman at that address declined to answer questions. A cardboard sign on the driveway said, "Absolutely no reporters or cameras beyond here. You must go!!"
Most neighbors said they were shocked at the arrest and allegations. Neighbors said there were two houses at the end of a private driveway, obscured by a shipping container and other homes in front. One of the two houses had a for-sale sign that came down recently, and people moved out about a month ago, neighbors said. Of several nearby residents at home yesterday afternoon, none knew Taboada by name.
Ruth Okamura, 77, said, "As a whole they are a nice group," and they should not be darkened by "one bad apple." She said it appeared to be a commune, and she noticed the families had young children and teens.
Neighbors said they see a lot of teens hanging out on the street at night coming from those houses.
A Web site that offers podcasts of religious sermons lists recorded messages from Back to the Cross Evangelistic Team hosted by Taboada. The Web site lists a Waikiki post office box and a nonworking telephone number. It says the ministry features in-depth Bible studies.
The Web site also says Taboada is originally from Peru.
A Web site that lists ministries in Portland lists Taboada as the pastor of Great Commission Ministries. It also lists the same nonworking telephone number.