Deaths of 9 soldiers prompt troops' shift
The father of an isle soldier killed in the attack praises the Pentagon's decision
The deaths of 1st Lt. Jonathan Brostrom and eight other soldiers in his platoon Sunday are forcing Pentagon leaders to begin shifting units to Afghanistan as troop levels in Iraq are being reduced because of the drop in violence.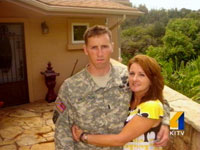 Parents say son expressed concern over number of troops.
"It's the right thing to do," said retired Army Col. David Brostrom, whose son was killed in Afghanistan in the worst attack on U.S. forces in the country in three years.
"Unfortunately for Jonathan, it's too little, too late. If anything could come out of this and Jonathan can be the catalyst for changing our strategy in Afghanistan, I am all for it. It has to be done," he said.
"They are fighting in situations where there are not enough troops on the ground and not enough resources," the elder Brostrom told reporters yesterday. "It's been like this for a long time.
"Hopefully, Jonathan's death and the others who gave their life for their country will change what we are doing in Afghanistan."
Col. Brostrom, a former helicopter pilot, noted that Adm. Mike Mullen, chairman of the Joint Chiefs of Staff, visited his son's unit -- the 2nd Battalion assigned to 173rd Airborne Brigade's 503rd Infantry Regiment -- just a few days before Sunday's attack.
"Leadership understands what they have to do," Brostrom added. "It's just going to take time to redirect resources to Afghanistan."
On Wednesday the Associated Press reported that Mullen said more troops are needed for the Afghan conflict, adding he expects to be able to recommend American troop reductions in Iraq later this year if security continues to improve.
Defense Secretary Robert Gates also said this week that sending more troops would have a significant impact on the violence. "I think that we are clearly working very hard to see if there are opportunities to send additional forces sooner rather than later," Gates told Pentagon reporters. But he added that no final decisions or recommendations have been made.
At least 29 U.S. soldiers died in Iraq last month, and there were 19 deaths in May -- the lowest monthly toll for American troops since the war began in March 2003. By comparison, in Afghanistan, 28 Americans died in June and 17 in May, but there are four times as many U.S. troops in Iraq.
Brostrom's unit was building a base camp in a remote mountain region in northeast Afghanistan near a village called Wanat. The camp was named after Brostrom's platoon sergeant, who was killed in January.
The elder Brostrom said his son told him during a visit home in May of the growing threat near the Pakistani border. "You could tell on the day that he left he was very concerned," he said.
"They knew they were going to be probed or attacked," the soldier's father said, "but they didn't know that it was going to be of such magnitude."
On Sunday morning, Brostrom, 24, received a report from a security outpost located about 160 feet from the base camp that it was "within hand-grenade range of taking fire." The outpost was manned by a squad of about a dozen soldiers on high ground overlooking the camp and had not been completely reinforced.
Brostrom responded by taking a reinforcements from his platoon to the outpost. News reports said that 200 militants armed with machine guns, rocket-propelled grenades and mortars attacked both the base camp and the outpost, killing nine and wounding 15 before they retreated hours later. Three days later, U.S. forces abandoned the camp.
"We didn't want this to happen, but this is a risk that Jonathan knew that might happen," his father added. "But he did what he was trained to do. He died gallantly, and so did other soldiers in his platoon."
Jonathan Brostrom made a surprise 18-day R&R trip home in May, showing up unannounced at the front door of their Halawa Heights home in uniform and with a bouquet of roses. His parents, brother Blake -- then a junior and a cadet in the University of Hawaii Army ROTC program -- his son, Jase, and friends had just finished dinner when the doorbell rang just after 10.
His mother, Mary Jo, said that Mother's Day surprise visit will be something she will "cherish always."
She described her son as "someone who loved to play jokes and surprise me coming up the stairs."
His mother said her son loved to surf and play golf.
"He loved Hawaii," she added. "He considered Hawaii his home."
She said her son never considered making the military a career until after he graduated from Damien Memorial High School in 2002 and sought an Army ROTC scholarship at the university. Brostrom was friends with another UH Army ROTC honor graduate: 1st Lt. Nainoa Hoe, who was killed by a sniper in Mosul, Iraq, in 2005.
The Associated Press contributed to this story.