Insanity verdict hospitalizes woman who killed mother
A state judge declared a 26-year-old woman not guilty of murder by reason of insanity yesterday and committed her to the Hawaii State Hospital.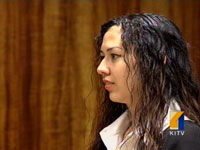 Defendant was found insane by judge.
Carol Weidman, who told police she killed her mother "before she killed me," was charged with second-degree murder for the May 30, 2007, stabbing and strangulation death of Lisa Weidman, 55, at a Halawa Heights home.
She waived her right to a jury trial yesterday and stipulated to facts presented in documents by police and prosecutors.
Circuit Judge Michael Town then presided over the brief bench trial. Neither side presented witnesses.
Town found Weidman not guilty due to mental defect based on the reports of five mental health experts who said she was not responsible for her actions.
"It's all so very tragic," Town said.
He also declared Weidman a danger to herself and others to qualify her for commitment to the State Hospital.
Deputy Prosecutor Rom Trader said the verdict is appropriate in this case.
"It is absolutely clear that this particular defendant has had a long-standing series of physical and mental problems which essentially spiraled out of control the day that she ended up committing the murder," he said.
Weidman was born without a thyroid gland, but that was not discovered until about a year and a half later, Trader said. She was prescribed medication for her condition, but by then her mental and physical development was affected, he said.
Her lawyer, Darcia Forester, apologized for interrupting Town to explain yesterday's proceedings to Weidman in simple terms.
"Carol does have some learning disabilities, so I have tailored my communications with her and the advice that I give her to take that into account," Forester said.
Weidman's father and brother attended yesterday's trial without comment.
Forester released a written statement on behalf of her client and her family which said they are satisfied with the resolution of the case.
Weidman has been in custody at Oahu Community Correctional Center since she was charged last year.
Weidman had moved to Hawaii just six weeks before she killed her mother, Trader said. She was not taking her medication as directed.
"She had sort of sunk down into a pretty deep, dark pit of depression," he said.
Trader said Weidman was also experiencing delusions.
"And in that particular state she felt and believed that her mother was about to kill her. And that while that doesn't make any sense to any rational person, a person in that particular psychotic state, the only course of action that she felt was appropriate was to act first," he said.