Stinky mess jams road
Carcass leaves Kahuku -- and smelly bits in Kaneohe
Motorists on Kahekili Highway in Kaneohe experienced an unusual traffic delay yesterday as putrid pieces of whale carcass fell off a pickup truck.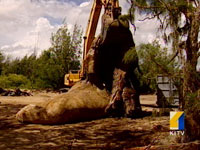 Heavy equipment was brought in to remove the dead whale.
The carrion, being transported by Hawaii Pacific University for research, littered the intersection at Haiku Road for more than two hours, creating a noxious nuisance to neighbors.
"It was so stink, the smell," said Victoria Plokstyte. "We thought it was trash or something."
Researchers and federal officials removed the carcass yesterday from a Kahuku shoreline ledge after 2 1/2 weeks. The removal came to the relief of residents, beachgoers and federal wildlife officials.
"This is a big load off a lot of people's shoulders," said Dave Schofield, marine mammal coordinator with the National Marine Fisheries Service.
How to get the 10-ton sperm whale off the ledge had bedeviled officials for weeks.
The carcass was first spotted June 29 about 12 miles off Kaneohe Bay before washing up on private land near Kahuku Point on June 30.
Yesterday, crews coordinated by the fisheries service and the state Department of Land and Natural Resources moved the decomposing leviathan onto the beach, where it was broken into pieces by an excavator and then buried. Schofield and his team worked from 5 a.m. until about midday after weeks of coordination and planning.
Kahuku resident Russell Jenks, who lives only a quarter-mile away from where the whale carcass washed up, said his son had to temporarily move to Ewa Beach to escape the stench.
"I guess now I can rest," said Jenks.
HPU assistant professor Kristi West and some of her students from the marine biology program retrieved some bones from the carcass, including a 7-foot skull bone and vertebrae.
"It's really significant from a research perspective, (and) it's a really neat teaching tool," said West. "It's such a spectacular animal."
But en route to HPU, the slimy bones fell off the back of the truck and blocked traffic in the southbound lanes of Kahekili Highway.
Police were on hand for nearly an hour to direct traffic while contractors and students worked to reload the bones, some weighing up to 400 pounds. The largest piece had to be cut with chain saws in order to be moved.
A police officer at the scene likened the stench to a dead human body.
Residents complained they had to either close up the windows and run the air conditioning or leave the house for the mall in order to eat lunch.
"The smell just lingers (inside)," said Richard Kurosu, who lives on the corner of Haiku Road and Kahekili Highway.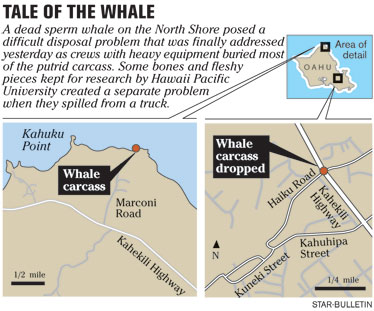 Even after the bones were hauled away at about 3:30 p.m. -- and firefighters cleaned up the oily residue, spreading dry absorbent material -- the odor lingered.
The adult sperm whale was estimated to have been around 65 feet long; the cause of death was unknown.
West plans to do DNA analysis to compare this individual with other sperm whales and conduct other studies to determine its diet.
Rick Stepien, HPU vice president of administration, said a second truck made it to the school with its load intact.