Cazimero halau to highlight 31st Prince Lot Hula Festival
This year's 31st Annual Prince Lot Hula Festival promises to be a special one, as Moanalua Gardens Foundation honors two of its founders, Frances "Patches" Damon Holt and Harriet "Haku" Damon Baldwin, with the theme "Na Wahine O Moanalua: The Women of Moanalua."
PRINCE LOT HULA FESTIVAL
Place: Moanalua Gardens
Time: 9 a.m. to 4 p.m. Saturday
Admission: Free, donations accepted
Call: 839-5334 or visit mgf-hawaii.org/HTML/Hula/
princelothulafestival.htm
Note: Free shuttles will run to and from Moanalua Gardens and Tripler Army Medical Center, where parking will be available. Beach chairs and mats allowed, but no commercial photography.

Headlining the festival, which takes place Saturday on one of the few remaining pa hula (hula mounds) in Hawaii, is the return of Robert Cazimero and his Halau Na Kamalei after a hiatus of more than 20 years. And although the legendary Maiki Aiu Lake won't be physically in attendance, her spirit and influence will shine at the event.
Cazimero was a graduate of Lake's, as were Kaha'i Topolinski and Vicky Holt Takamine, whose halau Ka Pa Hula Hawaii and Pua Ali'i 'Ilima, respectively, will perform at the festival. Lake's daughter, Coline Aiu, will bring her Halau Hula O Maiki; the dancers will perform the gentle, graceful style of hula most associated with the senior Aiu.
Cazimero's own former haumana, or graduates, will also attend: Manu Boyd and Halau O Ke A Ali'i Ka Makani join the roster, as do Michael Casupang and Papakahi I Ke Alo O Na Pua, last year's overall winner of the Hawaii Secondary Schools Hula Kahiko competition from Mid-Pacific Institute.
Alika Jamile, president of Moanalua Gardens Foundation, said this year marks the start of a new tradition at the festival. Ka Pa Kui a Holo, under the direction of Dr. Eli Mitchell, will present an exhibition and demonstration of lua (Hawaiian martial arts). The troupe will perform two chants and demonstrate ai lua (defensive moves) as they relate to hula kahiko (ancient hula). Hula kahiko was originally called the Ai Ha'a and was practiced by male priests.
Hawaiian plate lunches, sandwiches, shave ice and soft drinks will be available. Limited-edition T-shirts and a souvenir button will also be on sale. Proceeds will benefit foundation programs.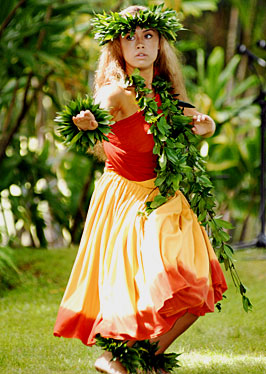 THE DAY'S SCHEDULE:
» 8:45 a.m.: Kamehameha Schools Men's Alumni Glee Club
» 9:15: Opening Ceremony
» 9:30: Remarks and welcome by Nalani Olds and Gabriel Papa
» 9:45: Ka Pa Hula Hawaii (kumu hula Kaha'i Topolinski)
» 10:10: Halau Na Kamalei (Robert Cazimero)
» 10:35: Halau O Ke A Ali'i Ka Makani (Manu Boyd)
» 11:00: Papakahi I Ke Alo O Na Pua (Michael Casupang)
» 11:25 a.m. to 12:55 p.m.: Hula Intermission, with Lua Demonstration at 11:30
» Noon: Royal Hawaiian Band
» 1:00 p.m.: Halau Hula O Maiki (Coline Au)
» 1:25: Ka Hale I O Kahala (Leimomi I Maldonado)
» 1:55: Halau Hula O Ka Wehi Kau I Ka Pali (Ku'uiponani Avilla)
» 2:20: Halau Ka Pa Hula O Kauanoe O Wa'ahila (Maelia Lobenstein Carter)
» 2:55: Pua Ali'i 'Ilima (Vicky Holt Takamine)
» 3:20: Kamehameha Schools Men's Alumni Glee Club