Feng shui way
Natural disasters from floods to earthquakes, not to mention rising gas prices, are among the signs that 2008 hasn't been a good year for many. From a feng shui perspective, this year is a bad one with lots of problems, says feng shui consultant Peter Lung.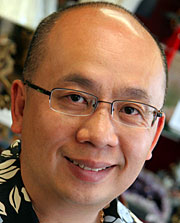 WORKSHOP
With Peter Lung:
» When: 9:30 a.m. to 12:30 p.m. tomorrow
» Where: Rehabilitation Hospital of the Pacific cafeteria, 226 N. Kuakini St.
» Cost: $48
» Call: 739-8288

Next year should be better - excellent, in fact, for many. But since we still need to get through the rest of this year, Lung is presenting "The ABC of Feng Shui & Feng Shui Updates for the Remaining Year of the Earth Rat 2008" tomorrow as a benefit for the Rehabilitation Hospital of the Pacific. All proceeds will go toward patients' needs. More than $40,000 has been raised from Lung's past workshops, said Ko Miyataki, hospital president.
"It's a good time to talk about the next six months and what people can expect," Lung said. If problems are recognized, "we can try to keep those areas quiet."
Feng shui is about balancing good and bad, to protect your home and yourself. "Everyone will have good years and bad years," Lung said, but even in dire times there are ways to compensate.
A shift in luck may be obtained by placing certain objects in the home. Turtles can symbolize long life and good health; a gourd-shaped jar represents health and longevity; a sailing ship promotes career and wealth.
"Feng shui is also related to colors and elements (metal, water, earth, fire and wood)," he said. "This year, the northeast sector is good for relationships, not just lovers, but also friends and clients. So put some flowers there."
Growing up in Hong Kong, Lung was exposed to feng shui at a young age. Today he and his wife, Joanie, own the World of Feng Shui shop in Kilohana Square and spend much of their time traveling to places such as Guatemala, China and Korea to share feng shui information. "Ninety-five percent of my clients are not Chinese," he said.
Joanie definitely believes in the "give and take" theory. "That's what feng shui is all about." Lung often offers to give talks on feng shui as fundraisers for organizations like the Rehab Hospital and the American Heart Association.
"Just because you practice feng shui, you won't be rich. Only one-third of luck comes from feng shui," he said, noting that a person's astrological chart, acts of service and karma are all determining factors.
Lung added. "But, I believe if we do good things, good things come to us."