| | |
| --- | --- |
| | Island Mele |
---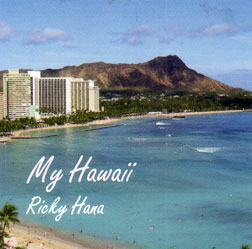 "My Hawaii"
Ricky Hana
(self-release)
Ricky Hana displays such versatility and imagination with the lyrics of the first two songs on this unpretentious artist's demo that the instrumentals that follow seem incomplete by comparison.
Hana makes a great first impression with "Summer Waikiki" as he combines an updated list of traditional hapa-haole images -- "suntan oil, bodies on the beach in the summer sun," "going to a party tonight," "my shaka brah surfboard," "G-string divas" -- with rock guitars and reggae rhythms. The lyrics ring true in describing an enticing summer playground. The song would be a perfect anthem for a "Come to Hawaii" campaign aimed at hip young 20-somethings. HVCB, are you listening?
On his next number, "No Money No Honey," Hana switches genres and goes acoustic to display his prowess on ukulele and as a falsetto singer. Once again, the lyrics are worth a careful listen. Hana describes a relationship with a greedy and unfaithful woman from a survivor's perspective. The lyric images and Hana's back-porch delivery make it memorable.
Three subsequent songs show off Hana's talent as a slack-key guitarist, and the final two are rockers. They're nicely done, but Hana is most promising as a quirky singer-songwriter. The collection might have made a stronger impression if Hana had organized his tracks differently, opening with the slack-key tunes, following with the rocker numbers and concluding with his vocal pieces.
Hana mentions in the credits that he wrote all the songs and played all the instruments, but he provides no information about himself, or the people and experiences that inspired him.
---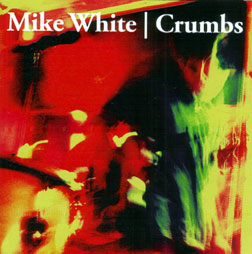 "Crumbs"
Mike White
(Watertight Records First Release)
Singer-songwriter Mike White recorded this collection of 11 soft-rock snapshots in Honolulu. Wherever it is that the artist may call "home," the album is a product of the local recording industry, and one Hawaii can be proud of. White brings wit, insight and the ability to coin memorable phrases to the ever-popular task of commenting on the ups and downs of human relationships. It's all been said before, but White finds new ways to say it.
White is primarily a man and his guitar. That's all he needs to share his insights, but the percussionists who back him contribute to their impact. The artist's musical palette broadens as the album continues. Studio guests add piano, mandolin, harmonica, "pretend accordion," "Heineken bottle" and various other instruments on the selections.
"Glutton" is a song that stands out lyrically. It's a response to someone, a nagger it would seem. The singer is taking a "vacation from moderation," and adds, "Don't call me lazy. I've just reprioritized."
With numerous other clever quips and pithy insights scattered throughout his work, White earns his place within the small army of singer-songwriters whose work effectively speaks for romantics everywhere.
"Crumbs" is available on iTunes, Amazon, eMusic, Rhapsody and Napster.
John Berger
, who has covered the local entertainment scene since 1972, writes reviews of recordings produced by Hawaii artists. See the Star-Bulletin's Today section on Fridays for the latest reviews. Reach John Berger at
jberger@starbulletin.com
.