Driver admits guilt in crash
The driver of a sport utility vehicle that crashed into a sedan, killing two people near Waimanalo Elementary & Intermediate School last year, pleaded guilty in Circuit Court yesterday to two counts of negligent homicide and failing to remain at the scene of the accident.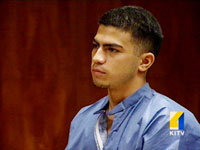 A teenager charged with killing two woment and fleeing the scene after a car crash has changed his plea.
Tyler Nainoa Duarte, 18, of Waimanalo told Judge Frances Wong he pleaded guilty to the charges because, "I did it.
"I was driving that evening," he said.
Duarte faces a maximum 10 years in prison for each of the charges when he is sentenced in October.
"There was no plea agreement so we can ask for the maximum, he can ask for probation," said Sheila Nitta, deputy prosecutor.
Duarte remains in custody, unable to post $30,000 bail.
He was 17 when the SUV he was driving hit a sedan broadside on Jan. 20, 2007, killing the car's two occupants. However, Wong, Family Court senior judge, waived Family Court jurisdiction, allowing prosecutors to charge Duarte as an adult, but was assigned to preside over the case. Duarte turned 18 last September.
Nitta said Duarte was speeding prior to the crash. And police said Duarte admitted running a red traffic signal.
Duarte also admitted in court yesterday he was under the influence of alcohol, marijuana and cocaine at the time of the crash.
His blood test showed a blood alcohol content of 0.06 and confirmed the presence of cocaine and marijuana, Nitta said.
Duarte's SUV crushed the car and pinned it against a concrete tile wall. The two occupants, Michelle A. Benevedes, 39, and her cousin, Racquel L. Akau, 38, both of Waimanalo, were pronounced dead at the scene.
Following the crash, Duarte and his passenger, a 17-year-old boy, exited the SUV and ran in different directions. Police apprehended Duarte nearby.
Wong asked Duarte whether he returned to the scene. Duarte said he tried but did not.
Benevedes' and Akau's families are suing Duarte and his parents in state court.