Hannemann won't commit to another full mayoral term
Campaign: Mayor files for re-election
Mayor Mufi Hannemann officially filed for re-election yesterday at Honolulu Hale, making no promises that he'd serve the full four-year term.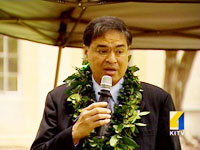 But it's possible he may not stick it out for the full four year term.
With 2010 poised to be an exciting election year in Hawaii, including an open seat for governor, Hannemann repeatedly declined to specify which office he might seek, saying he is keeping his options open.
"My feeling is, today, yes, I am running for mayor," Hannemann said in front of about 75 supporters, most of whom were his Cabinet members and campaign team, during their lunch break. "It is a four-year term, but I learned in life as well as in this crazy world of government and politics, you never say never."
At a news conference Monday where four former state transportation directors pledged their support for Hannemann's $4 billion rail transit system, Hannemann jokingly introduced his longtime friend, city Transportation Director Wayne Yoshioka, as the "future state transportation director."
Hannemann said yesterday he was referring to Yoshioka's experience as worthy of a larger agency, not that he was looking to be governor.
After Hannemann had filed his nomination papers for the fall campaign yesterday at the City Clerk's Office, he walked outside to supporters who were chanting, "Four more years!"
His spokesman, Bill Brennan, said then, "Well, at least two."
In 2000, Hannemann attacked then-Mayor Jeremy Harris, who was seeking re-election, for "not being truthful" when Harris said he wouldn't rule out running for governor in the middle of his term.
Hannemann said he does not see a contradiction. "I don't think Mayor Harris was really clear whether he was going to stay the four years. I'm very clear from the get-go. I'm leaving it very open."
Hannemann said his platform will remain the same as when he ran in 2004, which included building a light rail system, fixing the aging sewer system and creating a community benefits package for the areas near Waimanalo Gulch Landfill.
Other candidates who have filed for mayor include Jim Brewer, Daniel Cunningham, Donavon Kambel and George Nitta. Panos Prevedouros, a University of Hawaii engineering professor and a vocal critic of the mayor's proposed elevated 20-mile rail system from Kapolei to Ala Moana, has not yet officially filed to run.
Two weeks ago, Hannemann had called Prevedouros a "one-issue" candidate and said he looks forward to debating him should the two become opponents.
In an interview shortly after Hannemann's response, Gov. Linda Lingle said the public should not discount Prevedouros as a serious mayoral candidate.
"Here's someone who has never run for office before and he's saying, 'Here's an issue that has excited me and my passions and I feel so strongly about it that if no one else is going to run, I'm going to enter the race,'" Lingle said. "It may be one issue, but it's one very big issue."