Family in search of missing millionaire
The founder of a Colorado-based software company has been missing in Hawaii for more than a week.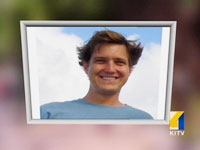 Steven Thomas was last seen June 30th at the Princess Ka-iu-lani Hotel in Waikiki.
Steven Thomas, 36, of Lanikai was last seen at about 5 p.m. June 30 at the Sheraton Princess Kaiulani Hotel. He has been diagnosed with bipolar disorder, and police describe him to be "emotionally distraught."
Thomas and his wife, Candis, were planning to move to Boulder, Colo., where the company he created, Webroot Software Inc., is based.
However, Thomas said he wanted to stay with his mother and cousin at the hotel in Waikiki for a few days. His wife left for Colorado. Three days later, on June 30, he told his family he was going to the bathroom, and he never returned.
"He thinks everyone on the island is out to get him," Candis Thomas said of her husband's bipolar condition. "He thinks the military is involved, he thinks that aliens are involved, and he's just been in a real delusion state of being fearful."
Webroot Software gained momentum with the proliferation of spyware, a tool used by hackers on the Internet to make money. The company developed software called Spy Sweeper to combat spyware.
In late 2004, Steven Thomas sold the software company to a group of investors for about $108 million. Since then, he has been involved in real estate investments and following the stock market.
Police advise anyone who sees Thomas to contact police and to not confront him.
"He may be really hiding because he's just afraid of everyone," Candis Thomas said.
She also said her husband exhibited suicidal behavior a few days before he disappeared. She said that when he was standing on the hotel balcony with his mother, he said that the balcony was not high enough "for what I need to do."
"And that really scares me," Candis Thomas said.
Thomas said her husband began to develop problems in April. On April 27, he was arrested for running around naked in his Lanikai neighborhood.
He was later diagnosed as bipolar, but he refused medication, Thomas said. Bipolar disorder, also called manic- depressive illness, brings about shifts in a person's mood, energy and ability to function, according to the National Institute of Mental Health.
"This could become still unresolved even when he does come home, if he doesn't get the medical help he needs," she said.
The family has been searching and passing out fliers in the Leeward and Windward areas of the island, as well as Waikiki.
Steven Thomas was last seen wearing a light-green T-shirt, shorts and slippers, although his wife said he might have gone home to grab a change of clothes.
He is 6 feet 2 inches tall, weighs about 180 pounds and has brown hair and green eyes. He also has a tattoo on his lower left leg of the American Indian Hopi tribe's symbol of luck.
Anyone with information is asked to call police or CrimeStoppers at 955-8300 or *CRIME on a cellular phone.