Kauai picks mayor after tense words
LIHUE » Bill "Kaipo" Asing's unanimous selection to serve as interim mayor for Kauai County was no surprise at the special Council meeting yesterday.
Bill "Kaipo" Asing
» Born: Kauai

» Age: 77

» Marital status: Married, five children

» Employment: Hawaiian Telephone Co., 45 years, retired 1991

» Political history: County Council, 1982-1998, 2000-present; ran unsuccessfully for mayor in 1998

» Residence: Lihue
The verbal sparring between one mayoral candidate and the majority of the Council, however, threw everyone off balance.
"The political season has begun," Councilman Tim Bynum observed later.
Asing, chairman of the Council and a 24-year veteran of the chamber, was unanimously selected to replace Mayor Bryan Baptiste, who died last month of a heart attack. He will serve until Dec. 1, after a new mayor is selected in elections this fall.
Announcing their candidacy for the mayor's job yesterday were former Mayor and Councilwoman JoAnn Yukimura, Councilman Mel Rapozo and Bernard Carvalho, campaign manager for Baptiste and director of the county Department of Parks and Recreation.
"My intention is to run for election," Yukimura said before the Council vote, then pressed Asing to clarify his intentions regarding the office.
"I feel it would be inappropriate" to take the interim mayor job "in the interest of fairness," she said, suggesting that the same should hold true for Asing.
Asing immediately took offense.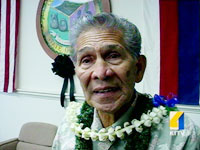 Under the county charter the council must choose a council member to succeed Mayor Baptiste.
"It's almost like my integrity is at stake," Asing said. "I'm not pleased at the question you have posed. ... It's not really fair."
And he received support from a number of councilmembers.
"To require the elimination of competition ... is self-serving and unjust," said Shaylene Iseri-Carvalho. The voters "deserve an option," she said.
Rapozo, who announced his mayoral candidacy after the meeting, called Yukimura's move "selfish" and said that the best-qualified member should be picked, regardless of political aspirations.
Asing filed papers for re-election to the Council July 1, the day the agenda for yesterday's special meeting was announced.
Yukimura, visibly upset, offered an apology to Asing.
"It was never my intention to call any question on your integrity ... (or) to stop you from running for any office," she said.
Asing, who ran unsuccessfully for mayor in 1998, said the selection brought him an "overwhelming feeling."
He said he plans to be a steward over the next few months.
"I want people to feel that everything (that) is in place will remain in place," Asing added. "I'm not looking at making any major changes."
However, he said he will not assume the mayor's office at least until after tomorrow's Council meeting, when two members will be absent to attend the National Association of Counties meeting.
"I offer only one promise," he said. "We will all work together for the betterment of Kauai, Niihau and the state of Hawaii."
Special election
The special mayoral election, to serve the remaining two years of Mayor Bryan Baptiste's term, will be held in conjunction with the county's primary election Saturday, Sept. 30.

As with all previous mayoral elections, if a candidate does not receive a majority of the votes, the two candidates with the highest vote totals will move on to the general election on Nov. 4.

Nomination papers for mayor were made available yesterday after the County Council's mayoral selection meeting.

Because it is a special election, no signatures are needed to file nomination papers, county officials said, but all state campaign spending and filing requirements must be met.

Three candidates have announced their intention to run:

» JoAnn Yukimura, mayor from 1988-1994 and current three-term county councilwoman; also council- woman from 1984-1988 and 1976-1980

» Bernard Carvalho, campaign manager for Mayor Bryan Baptiste and current director of the Kauai County Department of Parks and Recreation

» Mel Rapozo, current two-term county councilman, former Kauai Police Department officer