Athletic ability
A trivia book written by Lance Tominaga serves as his tribute to local sports
Lance Tominaga straight up admits he's a sports nerd. As a boy in the 1970s, when the University of Hawaii's Fabulous Five basketball team was all the rage, he would watch games on television with his family while playing junior court-side statistician, dutifully recording every goal, free throw and personal foul in his composition notebook.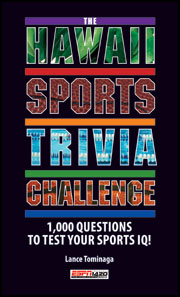 Book signings
» Noon to 1 p.m. Saturday, Borders Windward Mall

» 2 to 3 p.m. Sunday, Borders Waikele

» 12:30 to 1:30 p.m. July 15, Bestsellers Bishop Street

» 2 to 3 p.m. July 26, Borders Ward

» Noon to 1 p.m. Aug. 17, Borders Pearlridge
"Before then my first memory as a sports fan was when I was 6 or 7," he said. "I was in a karate class in Pearl City, and the sensei stopped the class so we could watch the final game of the Rainbow Classic. I was totally into it."
Tominaga's personal preoccupation paid off 10 years ago when the magazine he worked for, ALOHA, went belly up. He was suddenly unemployed, but his continued fascination with UH and pro b-ball and football and, more important, his ability to retain knowledge of those sports, quickly brought him a sense of self-respect -- and eventually his dream job.
On the day he was laid off, Tominaga competed for a prime spot in the finals of a sports trivia contest held by KKEA radio. Paying work came later on the same station -- after some periods of freelance and magazine work (including a stint at Hawaii Home + Remodeling, "a great magazine, but I got tired writing about vinyl real quick"). The station's call letters are now ESPN 1420, and it's part of the national sports cable TV and radio powerhouse.
"It's inspiring to work surrounded by all these sports people," Tominaga said. "I'm the editor for our Web site as well as the ESPN 1420 Magazine, which will go to print hopefully sometime in August."
He's also a published author, writing "Catch the Dream: The Story of Hawaii Winter Baseball," and helping John Tippin write the memoir "I Did It: My Life After Megabucks." But Tominaga says his latest book, "The Hawaii Sports Trivia Challenge" (Watermark Publishing, $11.95), was by far the most fun.
"I did want to tie it in with our station's upcoming sports trivia challenge (which starts today), but the contest's questions are more national in nature. The book, in comparison, is made up of all Hawaii-based questions and for Hawaii sports fans."
Response to the book has been favorable from among those with long memories, although Tominaga says with a slight laugh that younger readers have told him, "You have to be really old to know this stuff, like to have lived in the '80s."
The book was written during his off-hours at home, although Tominaga had access not only to his own collection of almanacs and team media guides, but also to the larger library at work.
"One thing I noticed in putting the book together was that it got a lot harder as I got nearer the end. I mean, you can only do so many Colt Brennan questions. But as it progressed, the sports fan in me really came out -- like, I felt I had to find a question for UH football player Gary Allen, who was one of the school's leading rushers.
"So by trying to be as complete as possible and touch as many sports and people, the book has become my own tribute to Hawaii sports."
---
A sample of Lance Tominaga's trivia questions
1. Who caught Colt Brennan's first touchdown pass as a University of Hawaii Warrior?

2. What NBA team drafted former UH basketball All-American Tom Henderson in 1974?

3. Who was the league MVP in the first season of Hawaii Winter Baseball in 1993?

4. Who has the career record for most kills in UH Rainbow Wahine volleyball history?

5. What player hit the home run that made his team the Little League World Series champion in 2005?

6. Who did UH beat in 1999 to give June Jones his first Western Athletic Conference victory?

7. Who was the original host of the local TV show "Let's Go Fishing" on Channel 2?

8. Where did Hawaii-born soccer star Brian Ching play his college ball?

9. Who was the first UH Rainbow Wahine basketball player to play in the WNBA?

10. David Ishii is one of two local golfers to win the Hawaiian Open. Who was the other?

Click here for the answers.