JULY 4 CELEBRATIONS
Light up the night
STORY SUMMARY »
|
READ THE FULL STORY
Residents and visitors alike celebrated Independence Day yesterday with picnics, parades and fireworks. Thousands lined North Kainalu Drive in Kailua for the annual Fourth of July parade.
There were 10 aerial fireworks shows on Oahu from Magic Island (right) to Maili Beach Park and Turtle Bay and, for the first time, in Hawaii Kai.
East Oahu residents headed to beaches from Portlock to Waialae to see the finale of the "Celebration of Friends, Family & Freedom" over Maunalua Bay.
STAR-BULLETIN
---
---
FULL STORY »
Under a rainbow of red, white and blue balloons, Henry Kapono performed yesterday as the sun set over the first Fourth of July community celebration in Hawaii Kai.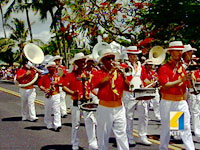 Some of the largest turnouts at the Kailua parade were the local supporters of Republican presidential candidate John McCain.
Cha Thompson, chairwoman of the committee that organized the "Celebration of Friends, Family and Freedom," said she wanted to bring people together.
"I didn't think Hawaii Kai was a very cohesive community. We were all kind of doing our own thing," Thompson said.
"Growing up in Kalihi, when you wanted to borrow sugar, you just went next door," but Portlock isn't really like that, Thompson said.
Across a small bay from the main stage, about 50 members of the Pratt family staked out a prime location near the waterfront under gray and blue plastic awnings. Children hunted crabs on the rocks.
Steven Pratt said they arrived at 11 a.m. Thursday and camped overnight. Camping on the holiday and watching fireworks is a family tradition, Pratt said, because the Fourth of July is also family matriarch Leolani Pratt-Hao's birthday.
"We used to do Waikiki. Now that it's in our hometown, we don't have to go outside of Hawaii Kai," Pratt said. "It's something special. It's about time, really. ... It's an old tradition in a new location."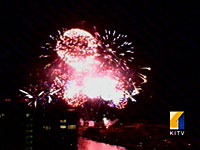 One of the biggest parties was at the Ala Moana Beach Park, where thousands gathered for the fireworks display.
Pratt said his family has lived in Hawaii Kai for 38 years, and yesterday was like a class reunion. "I've been seeing so many people. You come to an event like this, then you see them."
Tom Hintnaus, an eight-year Hawaii Kai resident, set up chairs on a small barge in the bay and invited friends and neighbors to watch the fireworks.
"When we first moved here, Hawaii Kai was like Sleepy Hollow," Hintnaus said. "This is the best thing they've done. We love Hawaii Kai. It's a great family place."
Thompson said it wasn't difficult to raise the $70,000 to put on the event and provide two $500 scholarships to East Oahu students.
Looking over the growing crowd mingling amidst food booths and community tents, Thompson smiled and said the event was a success.
"Now everybody is calling each other by name," she said.