SAFETY: 4 PARKS TO SHUT AT NIGHT
Beaches to close over 'bad apples'
STORY SUMMARY »
|
READ THE FULL STORY
The city will close four beach parks along the Leeward Coast at night starting later this month after residents expressed concerns about safety following the violent death last year of a North Carolina man.
The Waianae and Nanakuli neighborhood boards asked the city to close the parks to help rid the area of "bad apples."
Christopher Reuther was a prospective law school student at the University of Hawaii when he chose to camp at Zablan Beach Park on April 22, 2007.
He was punched by Less Schnabel Jr. and died four days later. Schnabel is on trial for manslaughter. In court testimony last week, witnesses said they warned Reuther of the danger.
Residents say late-night drinking, as well as drug use and dealing, do present a danger but have given their neighborhoods a bad and unfair reputation.
GENE PARK
---
---
FULL STORY »
The city will close four beach parks at night from Nanakuli to Waianae beginning later this month for "public health and safety concerns" following the killing last year of a college student from North Carolina.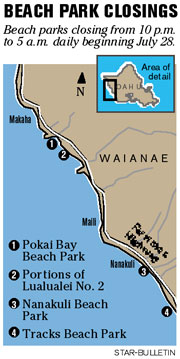 The nighttime closures, announced Thursday, were recommended by the Nanakuli and Waianae neighborhood boards and approved by the city Department of Parks and Recreation.
Pokai Bay Beach Park, portions of Lualualei No. 2, Nanakuli Beach Park (including Cove) and Tracks Beach Park will be closed from 10 p.m. to 5 a.m. daily beginning July 28. The shoreline will remain accessible to fishermen at all hours.
The community wanted the parks closed to get rid of the "bad elements" in the area, said Nanakuli Neighborhood Board Chairwoman Patty Teruya.
"We don't want to show that our beach parks are unsafe," Teruya said yesterday. "We want the tourists to feel safe. We want to aloha the people that come here."
Christopher Reuther was camping and taking photos at Zablan Beach Park on April 22 last year. He was punched by Leeward resident Less Schnabel Jr., who is on trial for manslaughter. Reuther, a 34-year-old prospective University of Hawaii law student, died four days later, when he was taken off life support.
During the trial last week, witnesses Harold Kaeo and Nicole Ako testified they warned Reuther that parts of the beach park were dangerous.
Teruya and other longtime Leeward residents said the testimony reflects poorly on their communities, but acknowledged that "bad apples" can make the parks unsafe.
"What it is is the late-night drinking, the drug distribution and how people conduct themselves at the beach parks that made it unsafe," Teruya said. "Even for us that live here, it's sometimes unsafe for us. But no more. It is unacceptable to have those kind of harsh statements said."
Jimmy Tabali, who was camping near Zablan Beach with his family for Independence Day, said Nanakuli should not be singled out as an unsafe place and that acts of violence can happen anywhere.
"No matter where you go, they have bad apples," he said. "If you can't come here to Nanakuli, then you can't go to Waikiki or go to Waimea Bay."
Tabali said nobody should be at an unfamiliar place late at night, but said last year's incident made him "mad because our side again look bad."
"I hope he (Schnabel) pay for what he did," said Hana Williams, a 52-year-old lifelong Nanakuli resident.
Williams said she encourages everyone to visit the Leeward beaches. She was at Nanakuli Beach Park yesterday, where she greeted tourists and asked them to be careful.
"I just told them to be careful in the water and watch their stuff," Williams said. "I get hurt when people say bad things about our community."
Teruya said she hopes the beach closures will improve the Leeward Coast's reputation, because she believes the community is fed up with troublemakers in the beach areas.
"They took over that park," Teruya said. "It shouldn't happen here -- not only in my community, but in any community. We want the beaches back."